New parents often ask me what is the best age for baby photos for their baby. As a photographer specialized in childbirth and baby, I can tell you there are different ways of deciding over a baby photo shoot according to your baby's age. In fact, it all depends on your wishes but I can only advise you on making multiple baby photo shoots following baby's growth to see how much your baby has grown during the first years of life. In this post, I will explain you what are the various baby photo shoots according to your baby's age so that you can decide, by yourself, what is the best age for baby photos.
What is the best age for baby photos?
Newborn photo shoot
As I was telling you in the introduction, the best age for baby photos only depends on what you want. The first baby photoshoot that can be done is the newborn photoshoot. This newborn photoshoot requires a booking as it is scheduled between 4 to 15 days after childbirth. Once again, as a specialist photographer in newborn photography, I have acquired a technical expertise for numerous years, which allows me to extend this newborn photoshoot until the age of 1 month old babies by adapting the newborn photoshoot to your baby's abilities (examples: 1-month old baby photo shoot of Monira and baby photo session at 1 month old of Alexandre).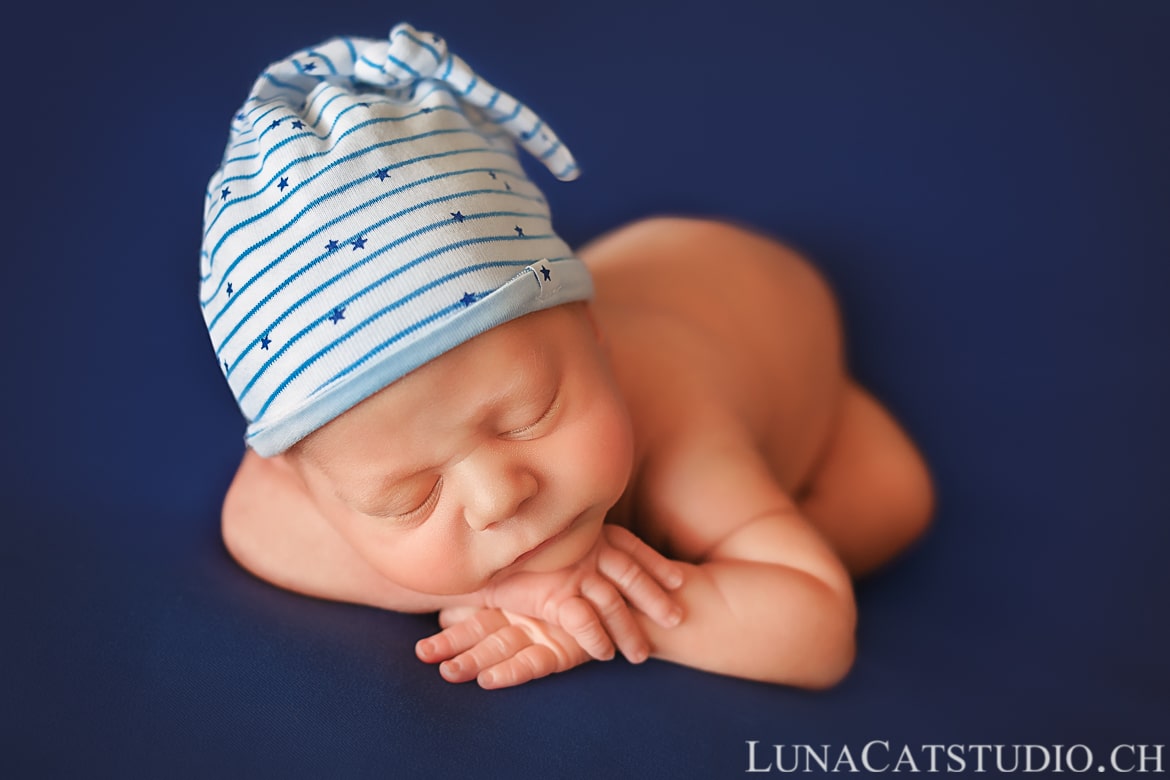 This session is a baby photo at home exclusively so that you can freely rest and the family can enjoy this unique moment. Less frequently, I have also made some baby photos at the maternity 1 day after childbirth. To know more about newborn photos, please read the page newborn photographer. If you want to see examples of newborn photo shoots, explore the newborn blog category.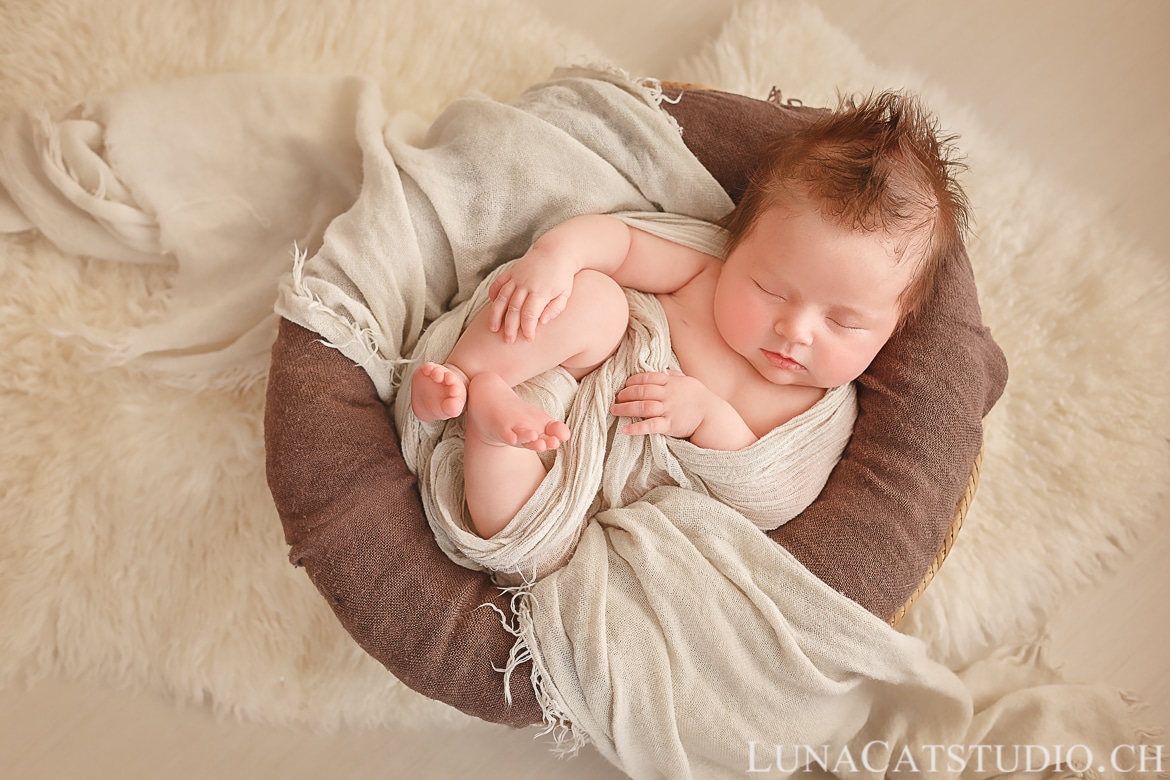 Baby photo shoot (2 to 6 months)
If you were not able to make newborn photos right after childbirth, do not wait any further to capture your baby's beauty in pictures. Indeed, some parents have been surprised that some photographers do not make any baby photo before 6 months after childbirth, which is not the case at LunaCat Studio. Here, I love baby photos between 2 to 6 months, which allows a completely new and complementary approach to newborn photos.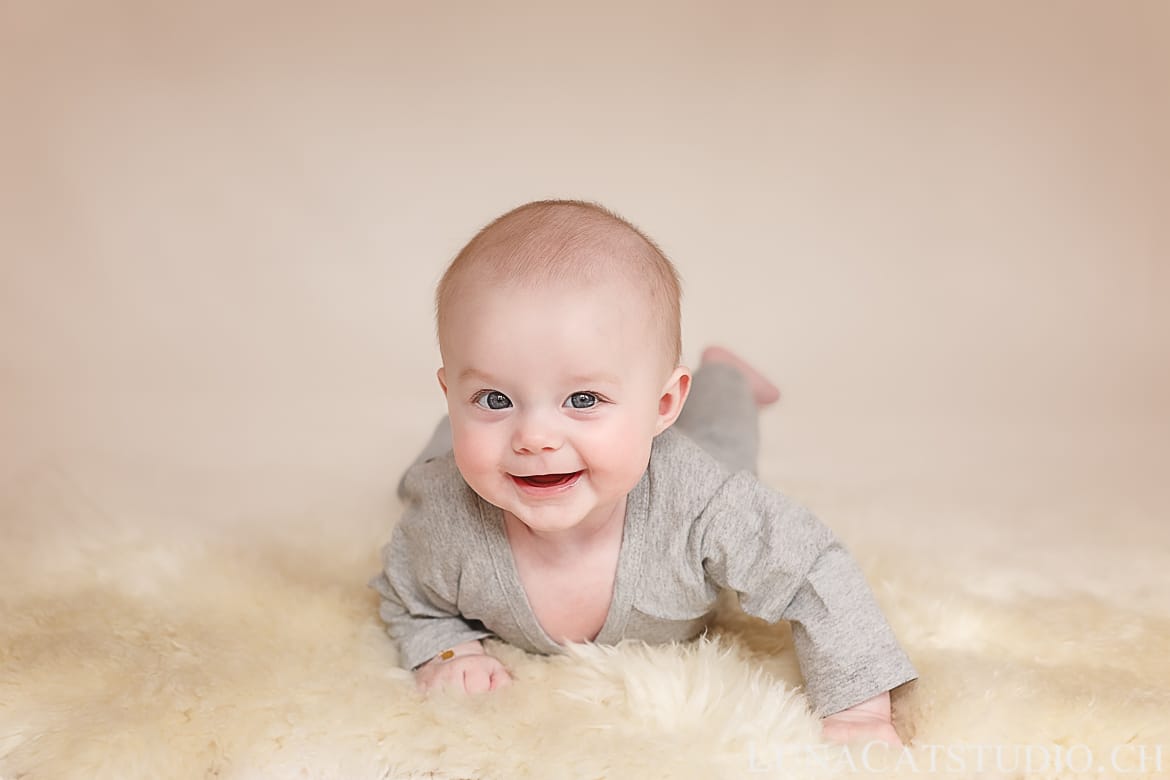 At the age of 2 to 6 month old, baby is evolving fastly and goes from newborn stage to a bigger baby. You see more awake time for your baby, he holds his head, can roll on the side, starts taking objects and more interestingly his feet, makes smiles and baby facial expressions and emotions, and your baby plays with great enthousiasm.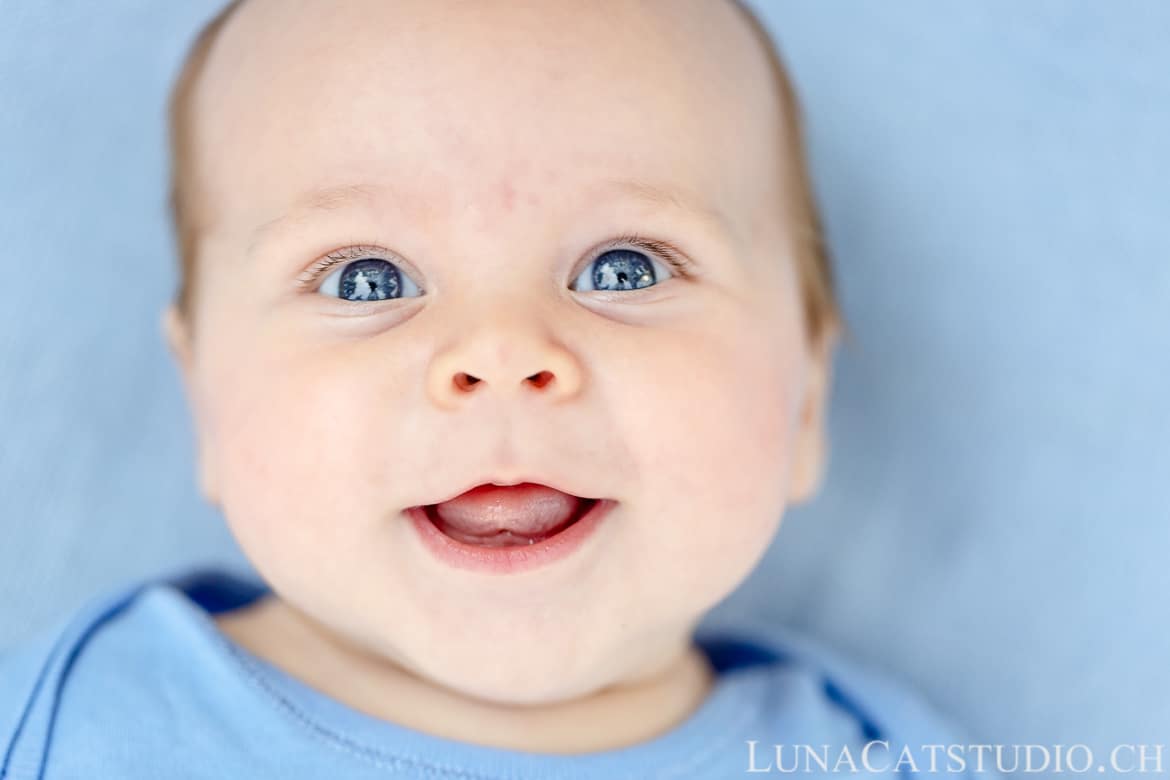 It is also a privileged moment to highlight the special relationship between parents and baby through more lively family pictures than for the newborn photo shoot by using games. This baby photo shoot can either take place at home or outdoors, weather permitting. For more examples of baby photos between 2 to 6 month old, you can go to the blog category baby or specifically to Orphée's 6 month old baby photo and Alexandre & Yvan's baby photo shoot.
Baby photo shoot (6 to 12 months)
At an age from 6 to 12 months, your baby becomes a "big baby". Indeed, baby keeps growing, he is sitting, crawling and begins to stand and to walk with help. Playing with parents is important and, once again, as a baby photographer, I capture this privileged relationship that I love emphasing in natural style photo to immortalize your family's beauty.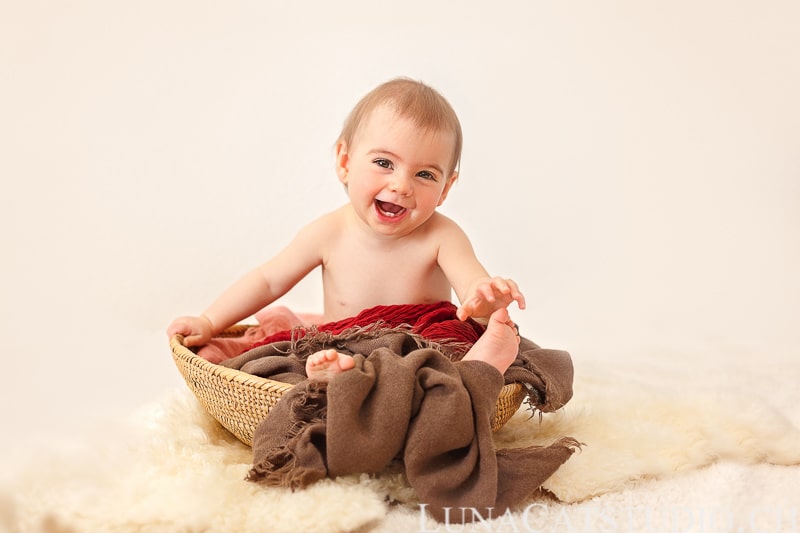 If your baby has siblings, I also love including them to show complicity and love they feel together while playing and making tricks. As an example, see Amandine's baby photoshoot at 10 months old and Iris' 1 year old baby photoshoot with her parents.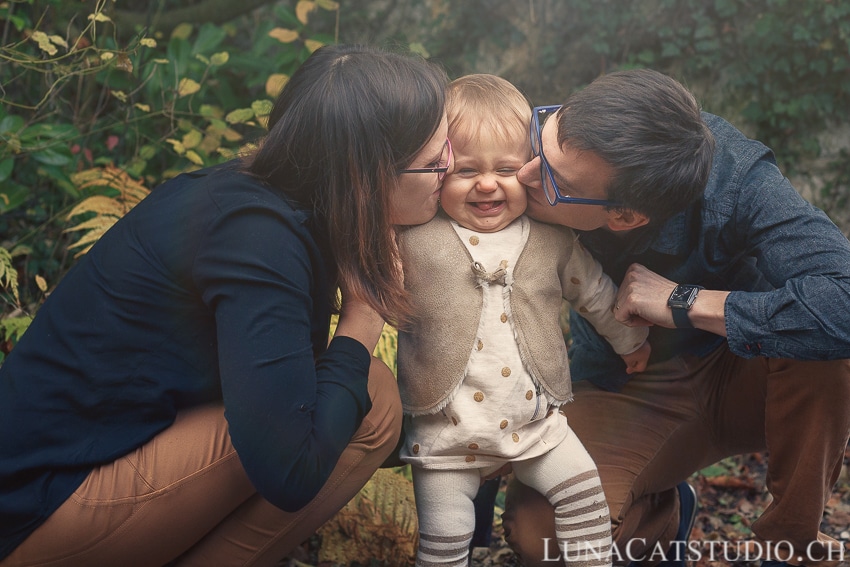 1 year baby photo shoot (birthday)
The first year of baby is a special moment for baby's parents and it is a pleasure for me to accompany you to immortalize your baby's first birthday.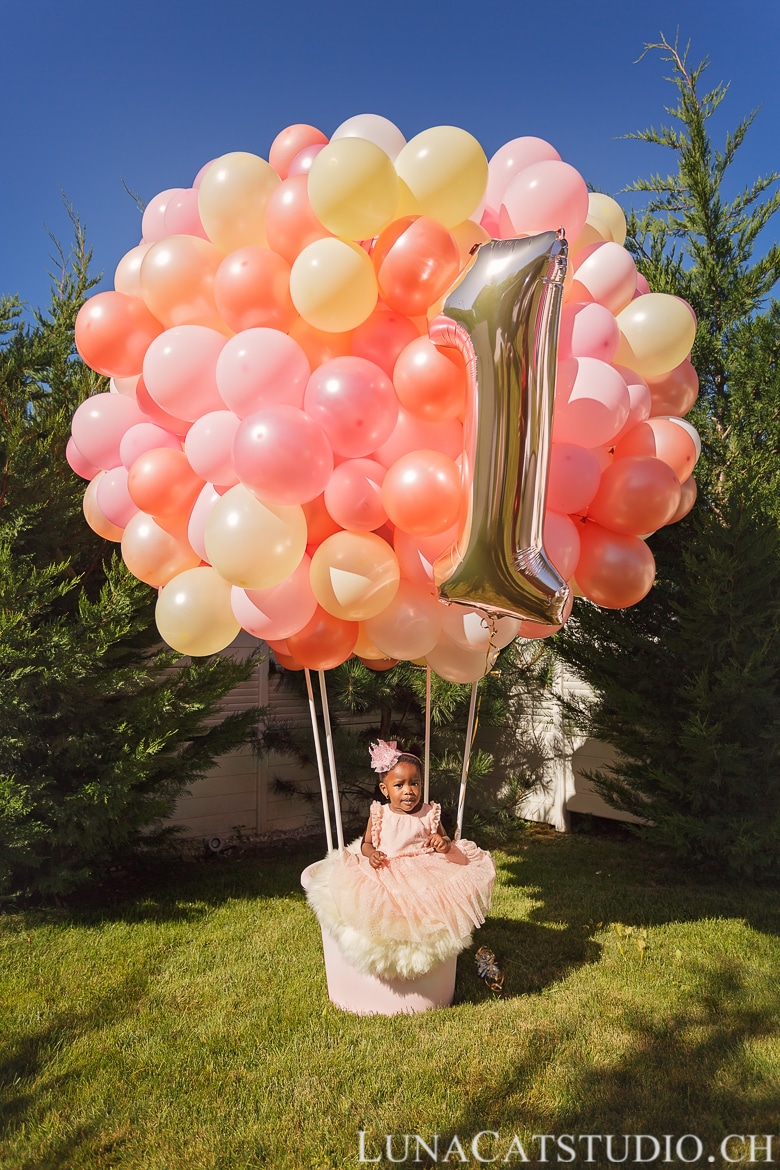 Baby's first birthday photos are done during a 6-12 month old baby photoshoot but also, alternatively, during a special birthday photoshoot. You can look at Tessa-Rose 1 year old baby photo shoot on the blog.
And after: family and kid photo shoot
After baby's first birthday (or even before), I usually offer a family and kid photo shoot outdoors to enjoy playing outside with your child. I strongly suggest making a family photo shoot each year to gradually extend your family photo heirloom.
Your baby will only thank you when looking at these family pictures years after they have been taken. A family photo shoot is a real pleasure game for kids and, as a photographer specialized in childhood, I know it is the only efficient way to obtain natural-looking and joyful images of your family, thus reflecting the family members' relationships. To learn more about family photo shoots, please refer to the blog category family.