As you know it, I am a newborn photography specialist. Anyway, my expertise in photography does not stop at this early stage of your baby's life as I also offer baby photo sessions at different stages of baby growth: when baby holds her head on the tummy, when baby stays seated and when your baby starts walking. Each baby is unique and growth at her own's path, there is therefore no specific month to schedule a baby photoshoot and everything depends on baby with every moment of her first year worth being captured with baby photography.
Of course, these baby photoshoots are, also for me, special moments that I treasure. I feel truly thankful to families who welcome me for a newborn photo session at home and I measure my luck when they hire me again to create gorgeous images for their family heirloom. And everytime, what a shock to see baby again and how much she/he has grown and changed while keeping newborn features from the newborn photo session.
6 month old baby photo at La Chaux-de-Fonds: Orphée
This is how I went back to see baby Orphée again for her 6 months at La Chaux-de-Fonds after making her newborn photos. What a joy to see this family again and I could discover Orphée's birth announcement with my pictures and her dad showed me he used one of Orphée's newborn pictures as his smartphone wallpaper. We started the photo session inside with a studio-like setup for family pictures, which will be so important for baby later on (and your child will love seeing you on pictures!).
Being 6-month old, Orphée was already happy to show how much she was able to run around! Parents, you will fast have to run behind her!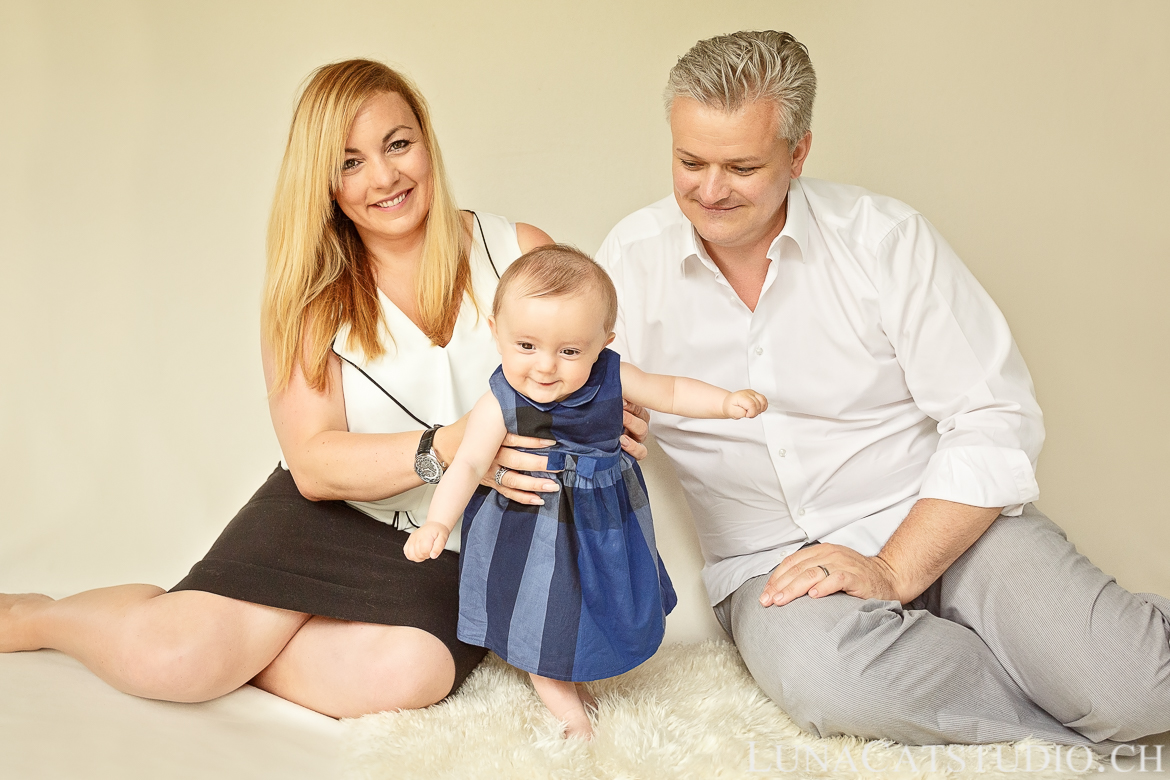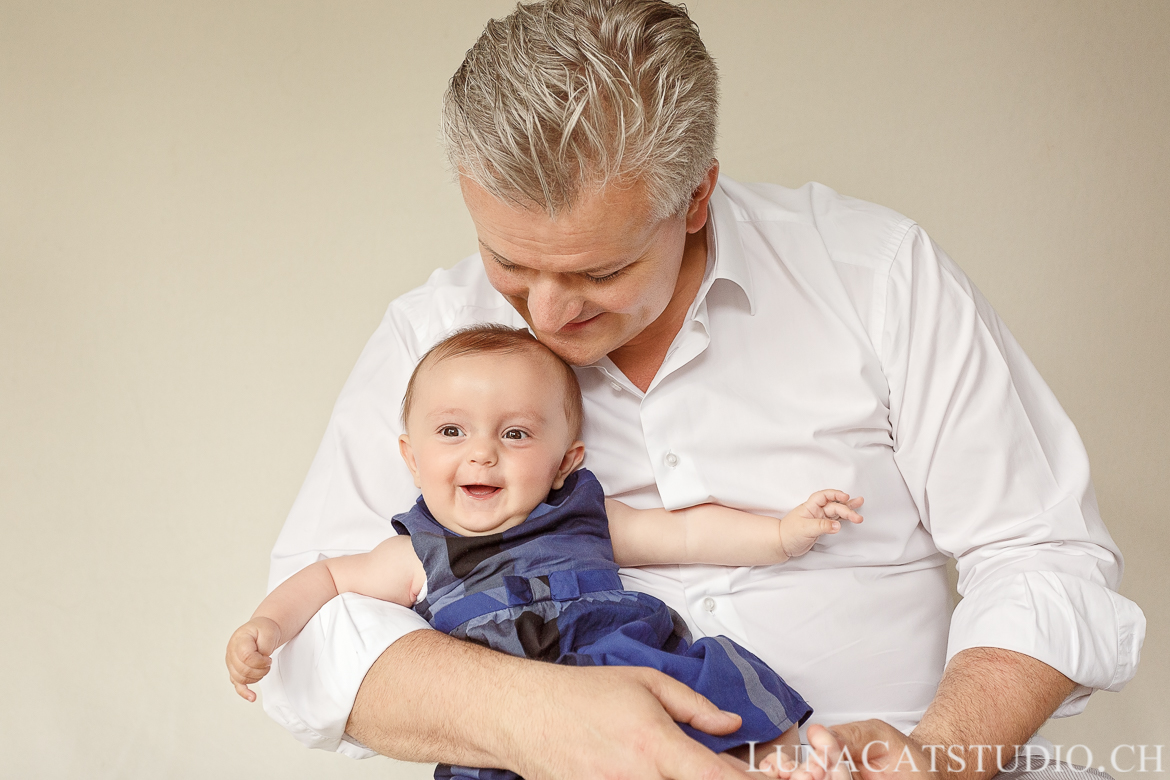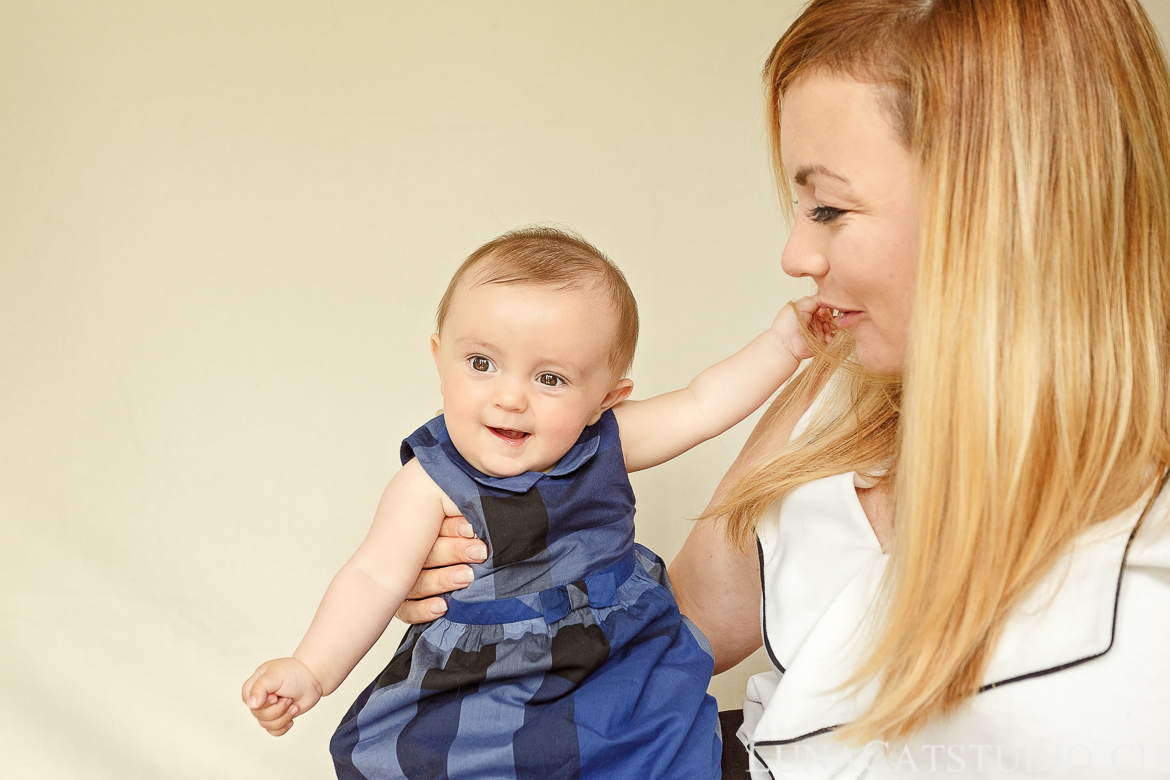 After, we had to make a before/after photo to see how much baby Orphée had grown since her newborn photoshoot. We had made a custom image with Orphée snuggled in a wine bottles box and we used the same box to have Oprhée sitting in it (go back to Orphée's baby photo session at La Chaux-de-Fonds). And I must say Orphée seemed to love making this picture!
We took full advantage of the beautiful weather to make outdoor family pictures in the garden.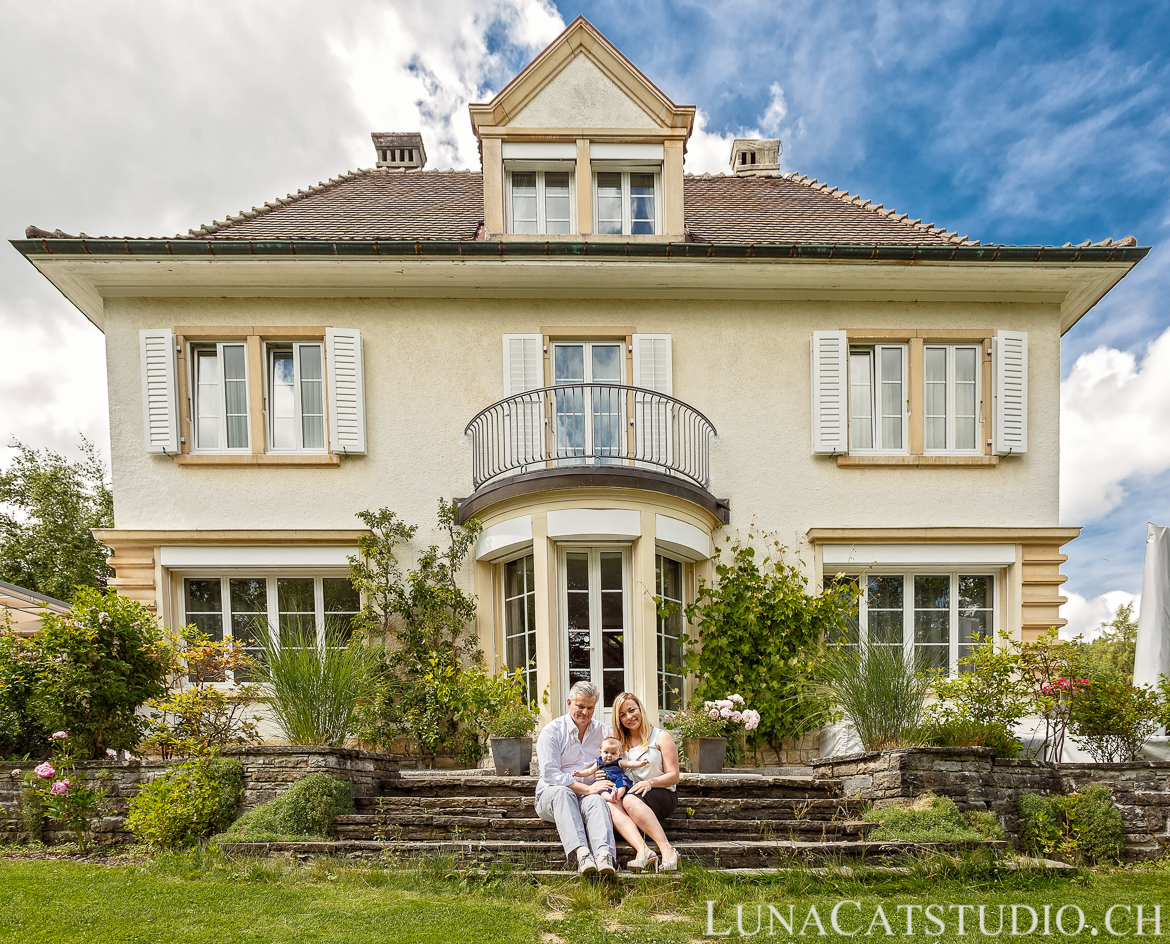 But you have to know Orphée has a cat friend. Her mum was perfect to help me get Orphée and the cat in the same frame.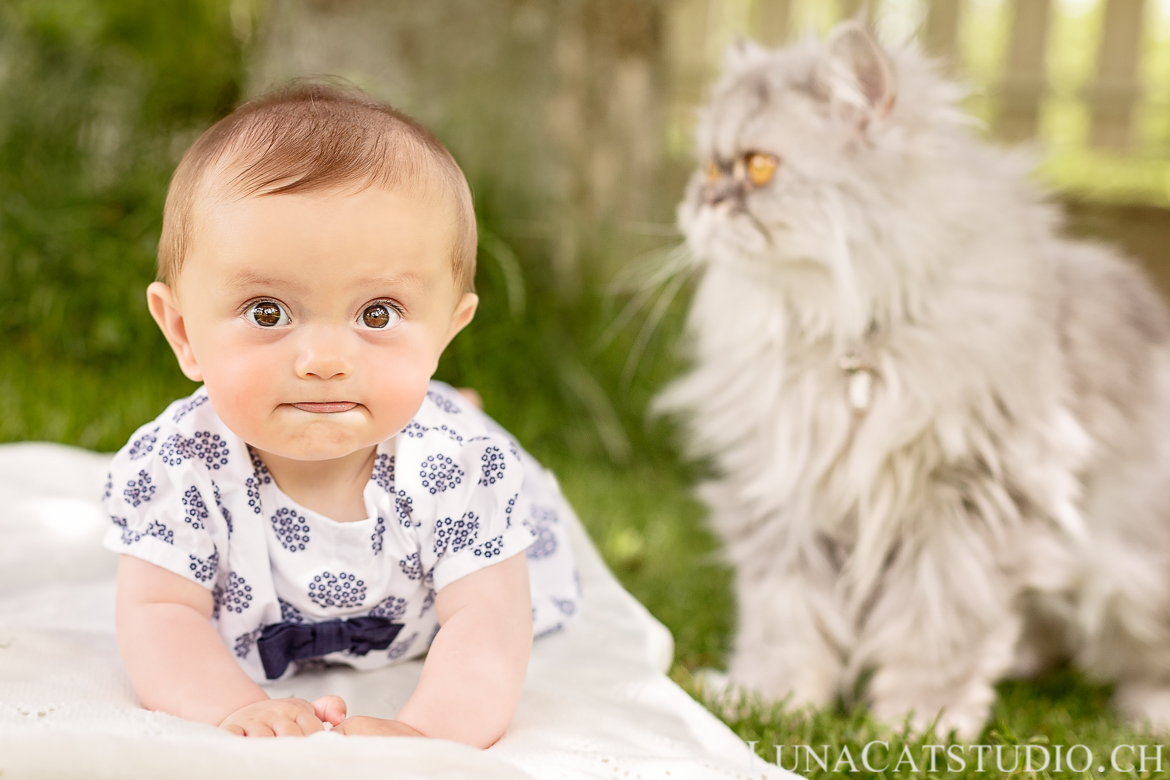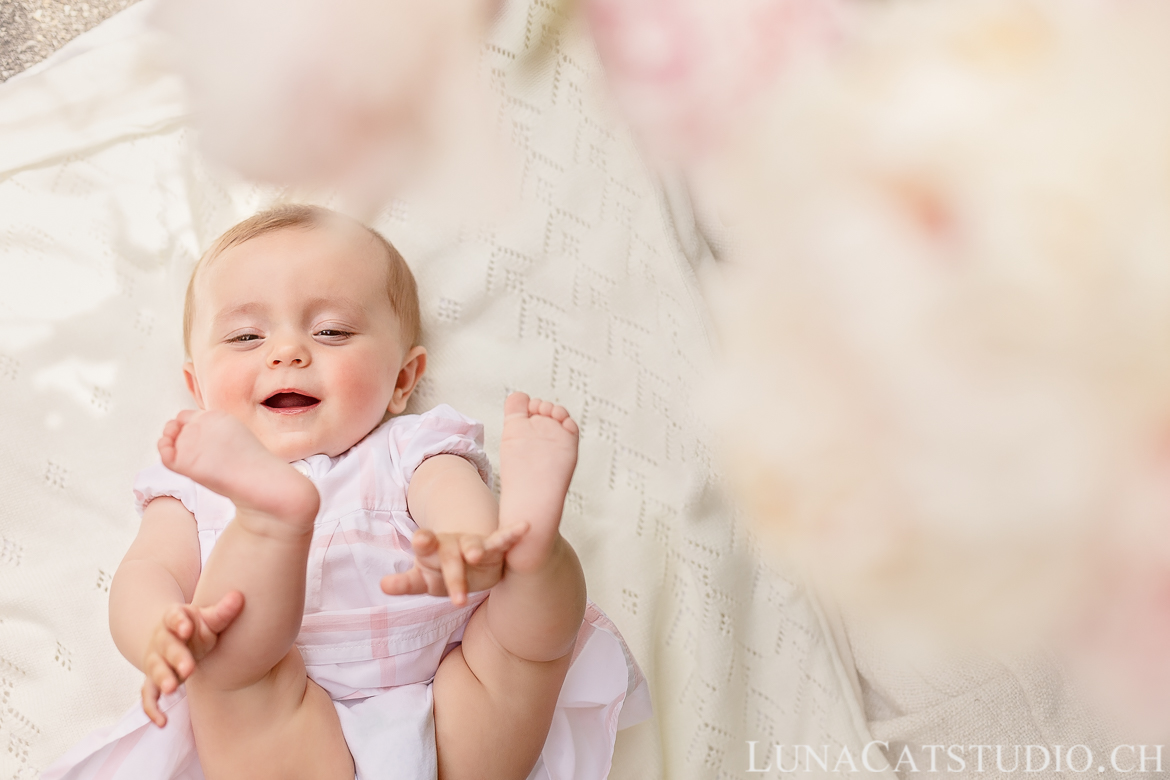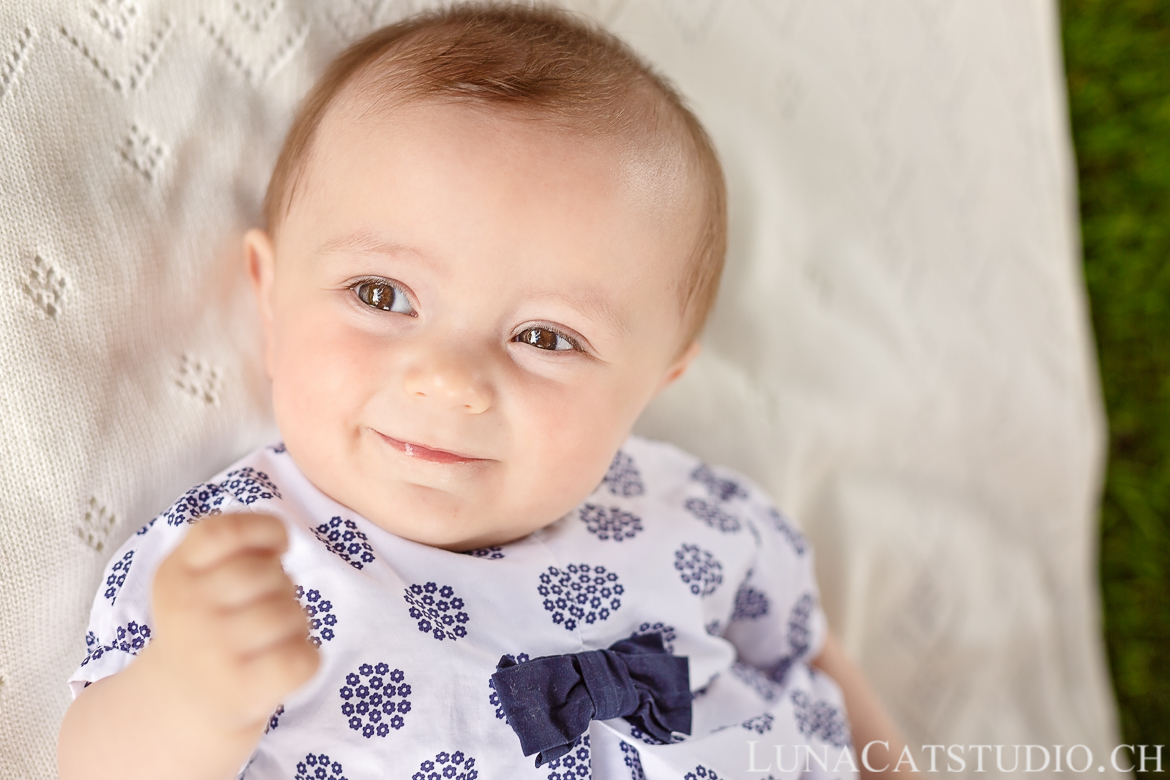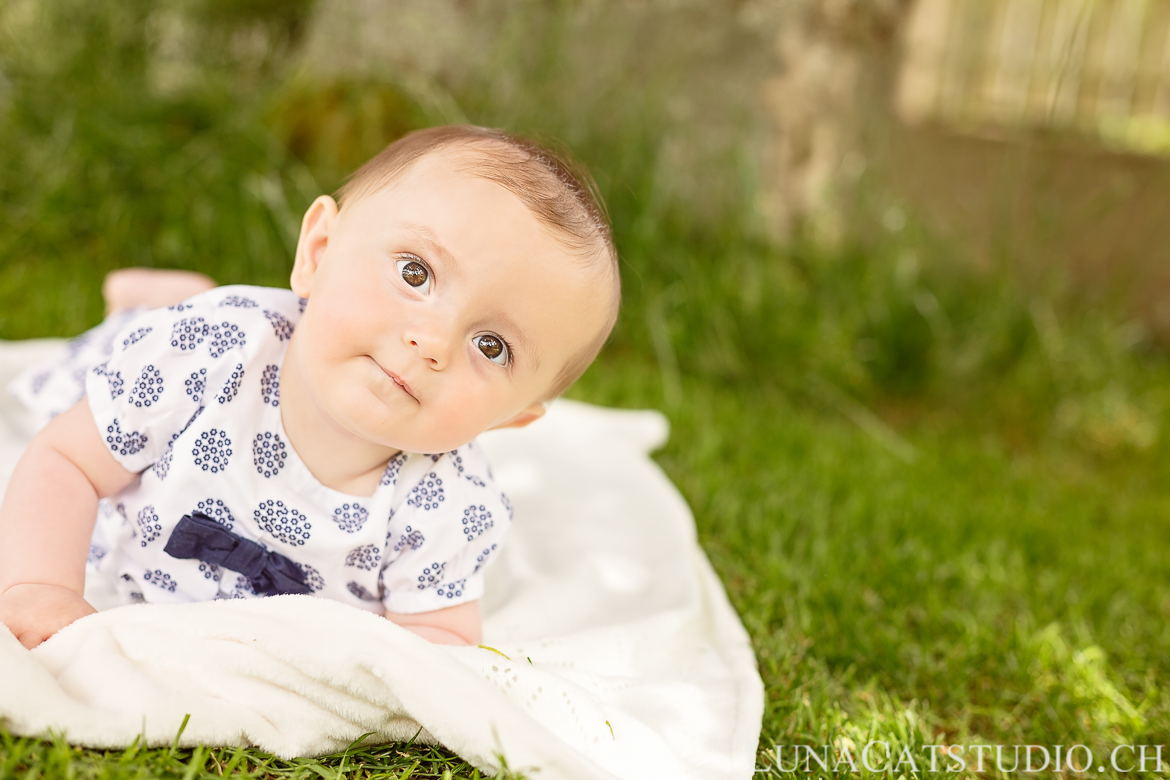 Follow the newborn photographer Geneva LunaCat Studio on Facebook – Google+ – Twitter – Instagram – Pinterest for other twin photo shoots. You can also offer a photo gift card towards a photo shoot.
---
About Cathy, baby photographer in La-chaux-de-Fonds:
Baby photo
LunaCat Studio offers to parents in La Chaux-de-Fonds, Geneva, Neuchatel, Nyon, Gland, Yverdon, Lausanne, and France in Haute-Savoie, Ain, Jura and Doubs high-quality baby photography at home or outdoors.
Based in Vaud, Switzerland, LunaCat Studio offers as a creative baby photographer a unique treatment of your baby's first days of life with artistic and wonderful imagery during a baby photo shoot. The baby photo session stays a privileged moment to immortalize the first years of your baby after birth in Switzerland.
Photography services for baby in La Chaux-de-Fonds, Neuchâtel
LunaCat Studio offers her photography for parents during a baby photo session in La Chaux-de-Fonds, Neuchâtel, Yverdon-les-Bains, Lausanne, Fribourg, Geneva and also in France in Haute-Savoie, Ain, Doubs and Jura. Contact me for more information on your baby photo session.
You are not looking for a baby photographer ? LunaCat Studio is also specialized in pregnancy photography, newborn photography and family photography. Do not forget to check out LunaCat Studio clients' testimonials.