Geneva photographer but also Lausanne photographer, including Fribourg and Neuchâtel, I travel through French-speaking Switzerland and to France for photo shoots. With my portable photo studio, I allow your family to stay peacefully at home for a newborn photo shoot or a baby photo session, which is perfect so that you do not have to travel to a photo studio just for a newborn photo session right after your baby's birth. This is much appreciated by parents who do not have to think about preparing everything for baby just for this photo session. I therefore have a lot of pleasure meeting families in Geneva for photo sessions as a Geneva photographer. 
Geneva photographer: newborn Elias
Today, I post Elias' newborn photo shoot I photographed in Geneva some days after his birth in Geneva. I brought my whole photo studio which is especially made for newborn photography to make the baby photo session in the best conditions. When I arrived for Elias' photo shoot in Geneva, he was already asleep and we could start right away his picture-taking. It often happens that a baby is "resisting" sleeping as I am a new external element but their resistance fades away quite fast as I know how to put a baby to sleep ;).
I love creating black and white pictures if parents are fond of this type of photos. For Elias' photo session, we made the following picture with his parents' hands, one from mum and one from dad, so that we keep the focus on baby.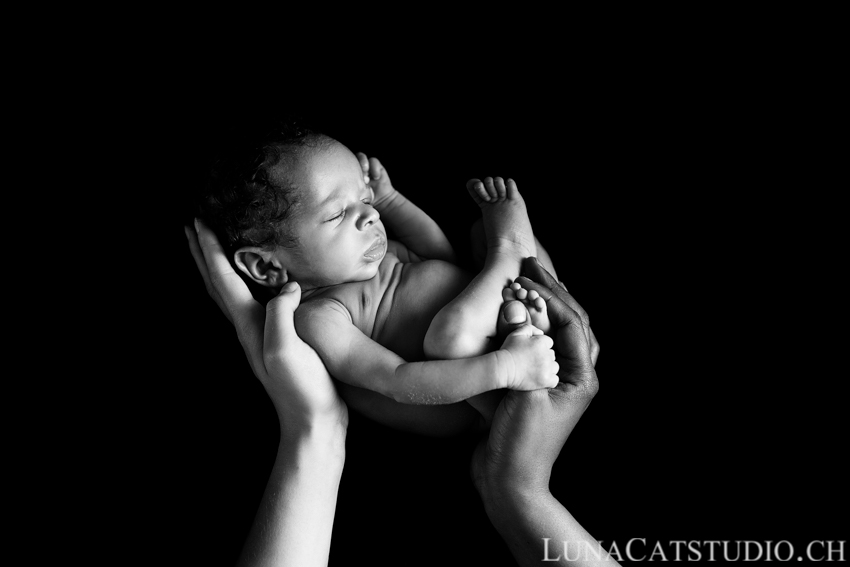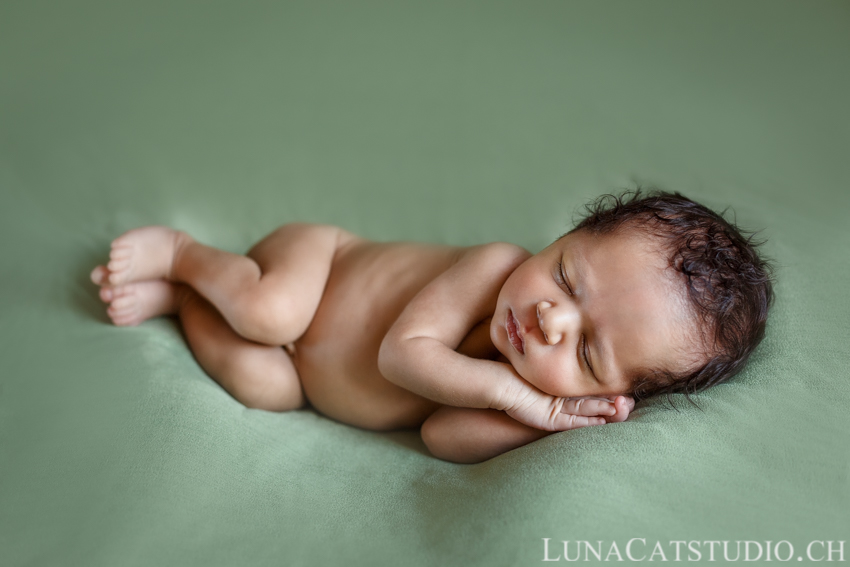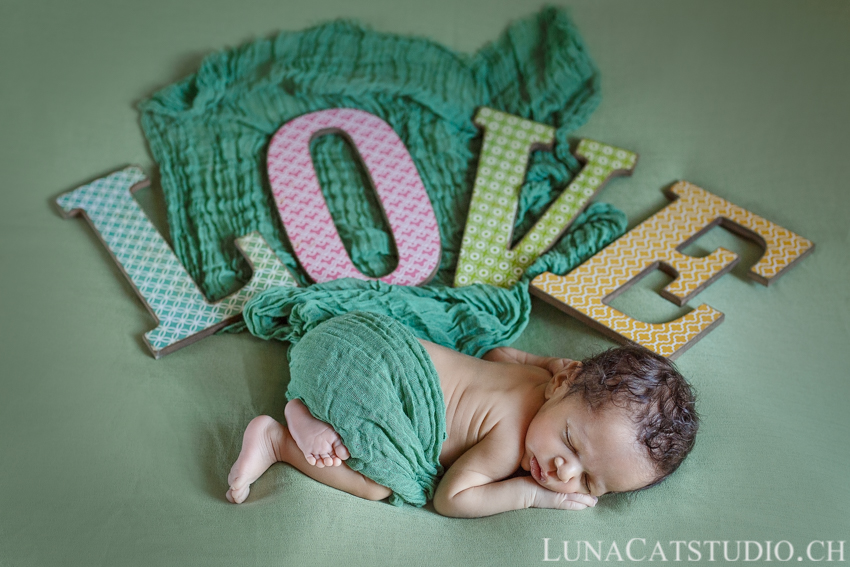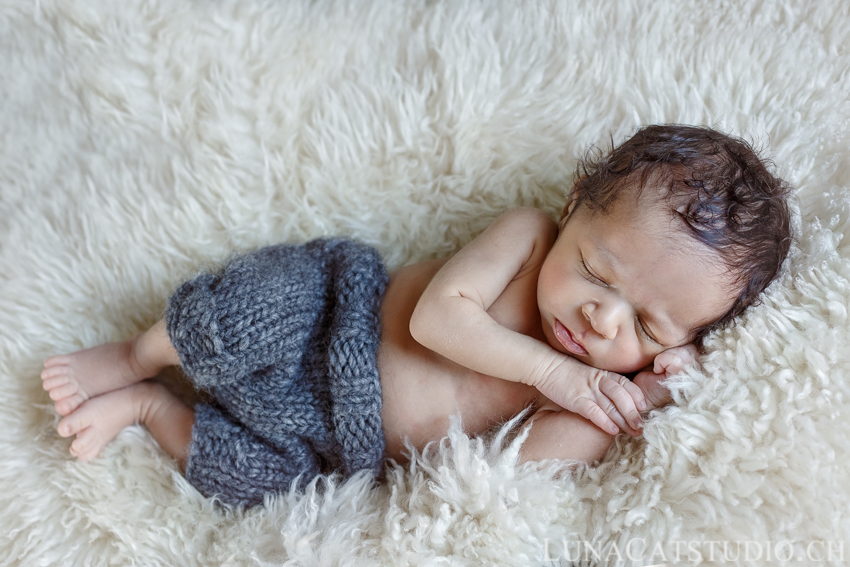 I so love photographing baby little details, such as hands, small feet, the mouth with its bubbles, but also the eyelashes and hair.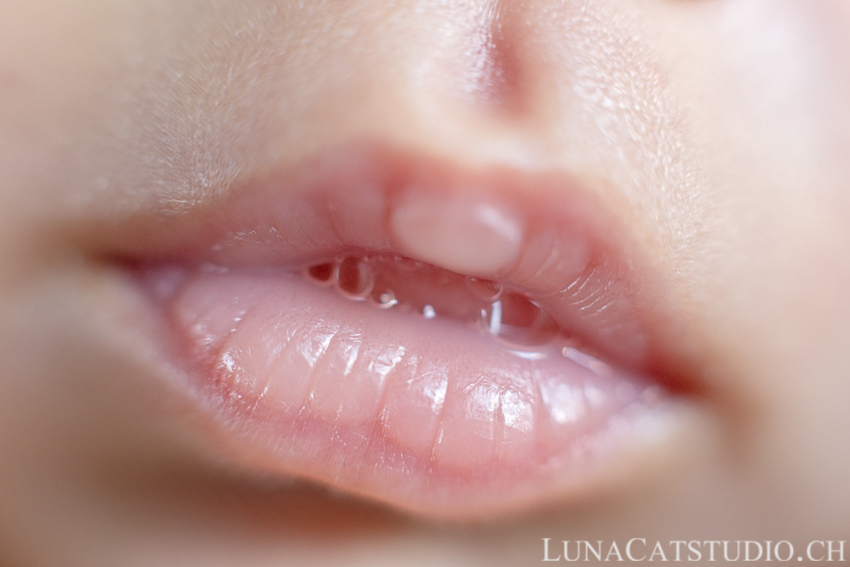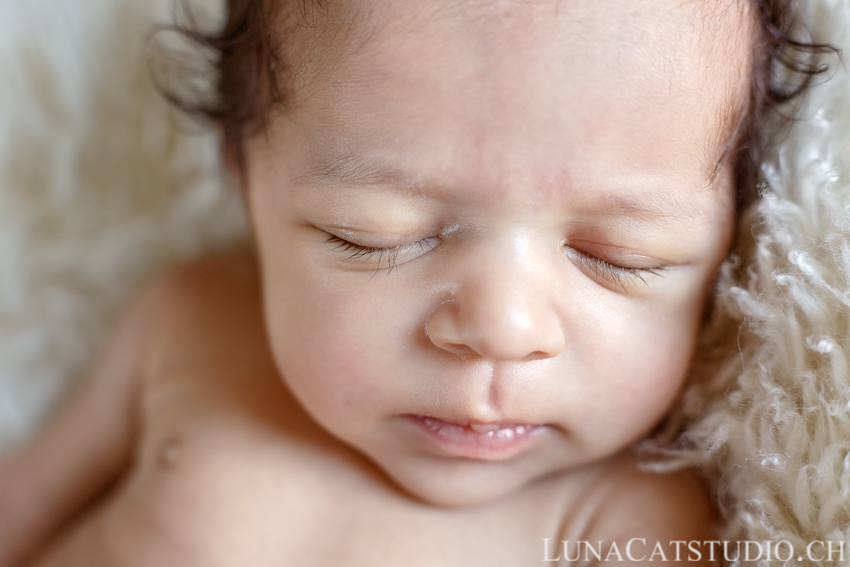 And before letting me go from Geneva, the lovely little Elias showed me his beautiful eyes  ;)!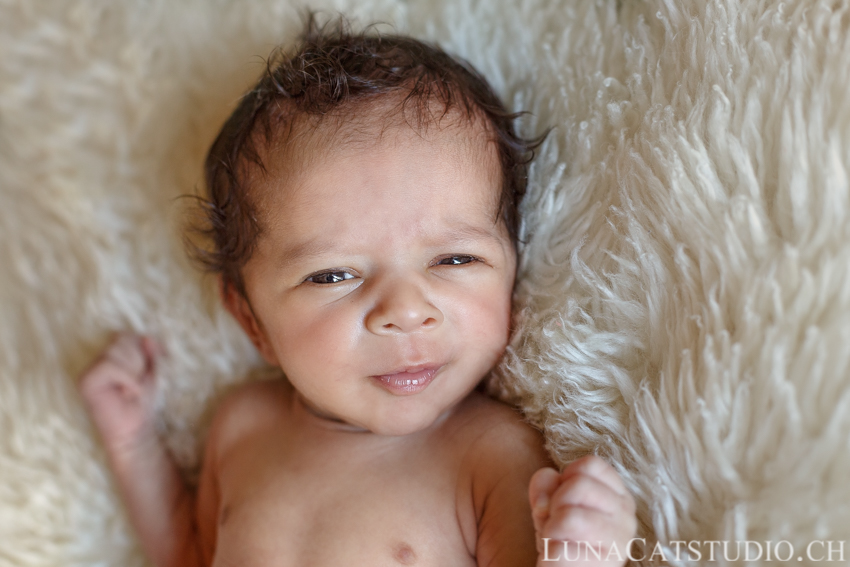 Follow the newborn photographer Geneva LunaCat Studio on Facebook – Google+ – Twitter – Instagram – Pinterest for other baby photography as a newborn photographer (even for a 1-month baby). You can also offer a photo gift card towards a photo shoot.
---
About Cathy, newborn photographer:
Newborn photographer in Geneva
LunaCat Studio offers to new parents in Geneva, Neuchatel, Nyon, Gland, Yverdon, Lausanne, and France in Haute-Savoie, Ain, Jura and Doubs high-quality newborn photography.
Based in Lausanne in Vaud, Switzerland, LunaCat Studio offers as a creative newborn photographer a unique treatment of your baby's first days with artistic and wonderful imagery with baby photos after your baby's birth. The newborn photo session stays a privileged moment to immortalize the first days of your baby after his/her birth in Geneva.
Photography services in Geneva
LunaCat Studio offers its baby photography during a newborn photo session in Geneva, also in France in Haute-Savoie, Ain, Doubs and Jura and the rest of Switzerland in Morges, Nyon, Lausanne, Fribourg, Yverdon, Neuchatel, Vevey. Contact me for more information on your baby photo session.
You are not looking for a newborn photographer? LunaCat Studio is also specialized in pregnancy photography and baby photography.