As a baby photographer travelling to parents'home, I go to different cities around Lausanne. I have had the pleasure, after Geneva, Fribourg, Neuchâtel, Nyon, Gland, Vevey, Orbe, to discover La Chaux-de-Fonds, city that I did not know yet. It is thanks to Orphée's birth that I had the pleasure to meet her and her parents in La Chaux-de-Fonds.
La Chaux-de-Fonds baby photographer: newborn photo shoot, Orphée
Orphée's parents wanted pictures with neutral tones and soft colors to have their baby as the center of attention in the photos, I therefore chose elements colors according to their will as I love creating custom imagery for each family I photograph.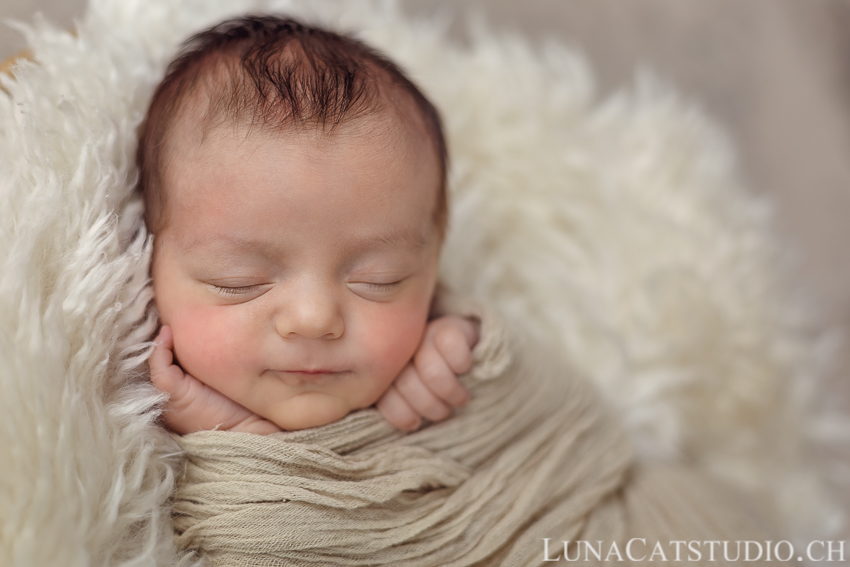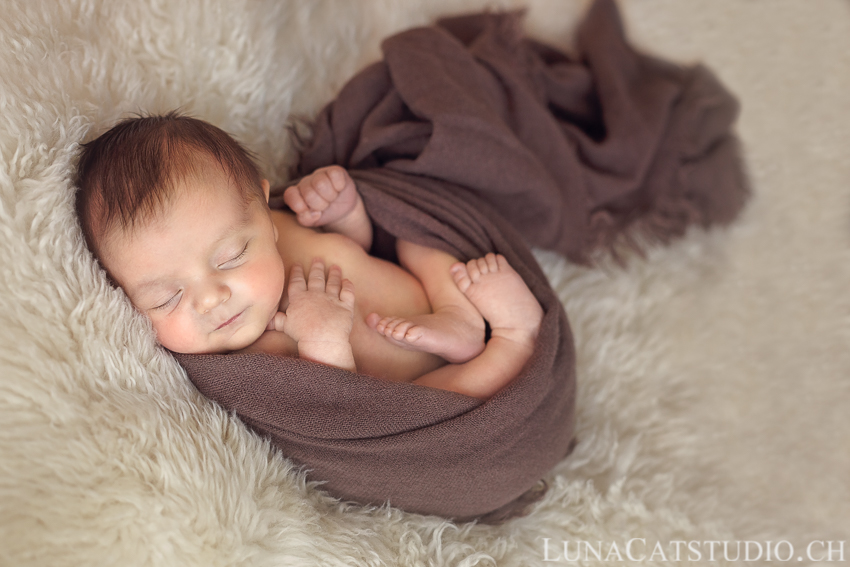 Orphée wanted to see what was going on around her this day and I took the opportunity to photograph her gorgeous eyes which were fixed on my camera, a big object with contrast so interesting for a newborn baby.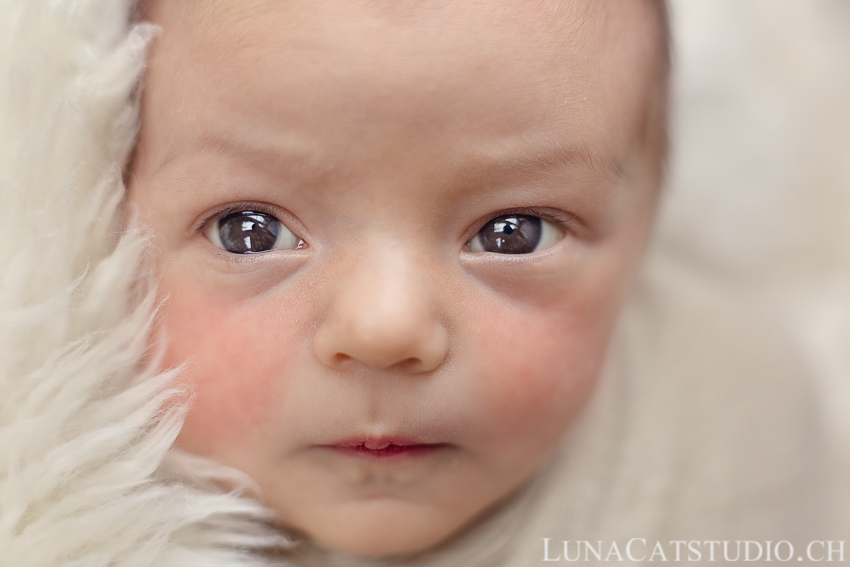 A beautiful family photo with her parents was to be created for their heirloom and I always love to be able to see love surrounding your baby's arrival.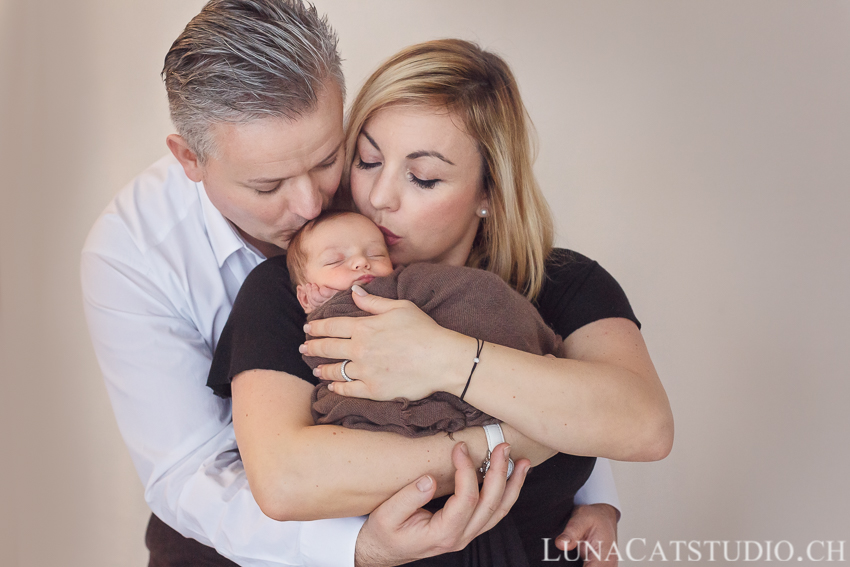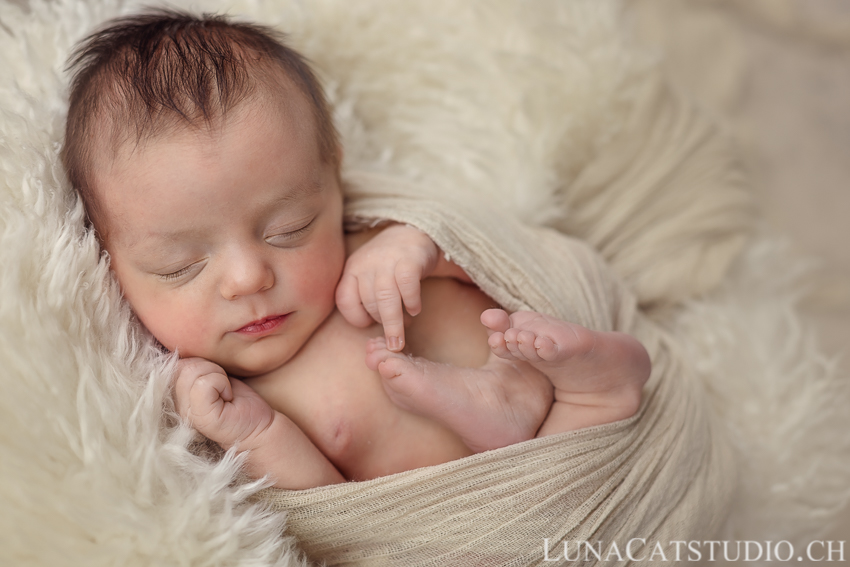 As I have already explained in Alexander's newborn photo shoot, I always make unique pictures for your family. Here, Orphée's dad is a great wine lover and I could take advantage of his wine cellar to create a perfect image to make Orphée's beauty in the center of her dad's passion. And she looks to like her small improvised bed in one of her dad's best wine box he chosed for the picture. This photo has become her dad's smartphone wallpaper which is such a great reward for me to see these pictures created particularly for you be used in your everyday life, being in a photo album, prints or just easily on your smarphone.
Follow the La Chaux-de-Fonds baby photographer LunaCat Studio on Facebook – Google+ – Twitter – Instagram – Pinterest for other newborn photoshoots as a newborn photographer.
---
About Cathy:

La Chaux-de-Fonds baby photographer

Newborn photographer LunaCat Studio offers to new parents in La Chaux-de-Fonds, Yverdon, Lausanne, Neuchâtel, Fribourg high-quality newborn photography.

Based in Lausanne in Vaud, Switzerland, LunaCat Studio offers as a creative newborn photographer a unique treatment of your baby's first days with artistic and wonderful imagery with newborn photos after your baby's birth. The newborn photo session stays a privileged moment to immortalize the first days of your baby after his/her birth in La Chaux-de-Fonds.

Services

LunaCat Studio offers its baby photography during a newborn photo session in La Chaux-de-Fonds and the rest of Switzerland in Lausanne, Nyon, Montreux, Geneva, Yverdon, Neuchatel, Vevey. Contact me for more information on your baby photo session.

You are not looking for a newborn photographer? LunaCat Studio is also specialized in pregnancy photography and baby photography.