After Erwan's newborn photo shoot in Neuchâtel, we are back in Neuchâtel for Léo's newborn photo session! 
Newborn photo Neuchâtel: Léo, 11 days old
Léo was accompanied by his parents (of course) for his newborn photo shoot, but also by his lovely dog Zola, who is also a young baby as she is only 1 year old. These two will spend incredible moments playing together later on! One thing was for sure, Zola was loving every part of this photo shooting as she was really playful! Yet, she was behaving greatly for this first picture and Léo's parents had trained her well in this regard.
As always, I take a great care to make unforgettable family pictures with your children and your baby as, in some years, these pictures will be your keepsakes of these first moments of life for your baby and she will love looking again and again at these photos! Moreover, family photos are a privileged moment for you to remember how little is your baby in your arms before growing up (too) fast! How not to melt in front of such a lovely smile of a mother holding her sweet baby?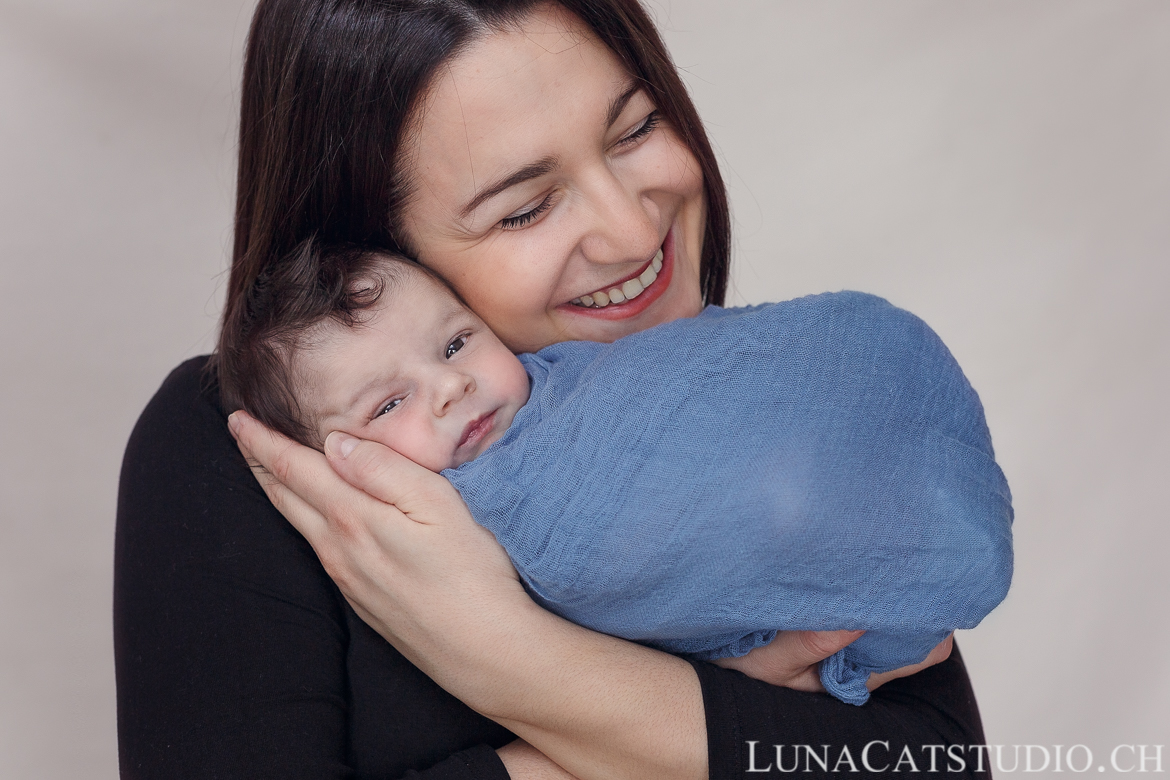 Léo, being a 11-day old newborn,wanted to show how curly he can be by showing you a pose that is similar to the foetus position in the mother's womb.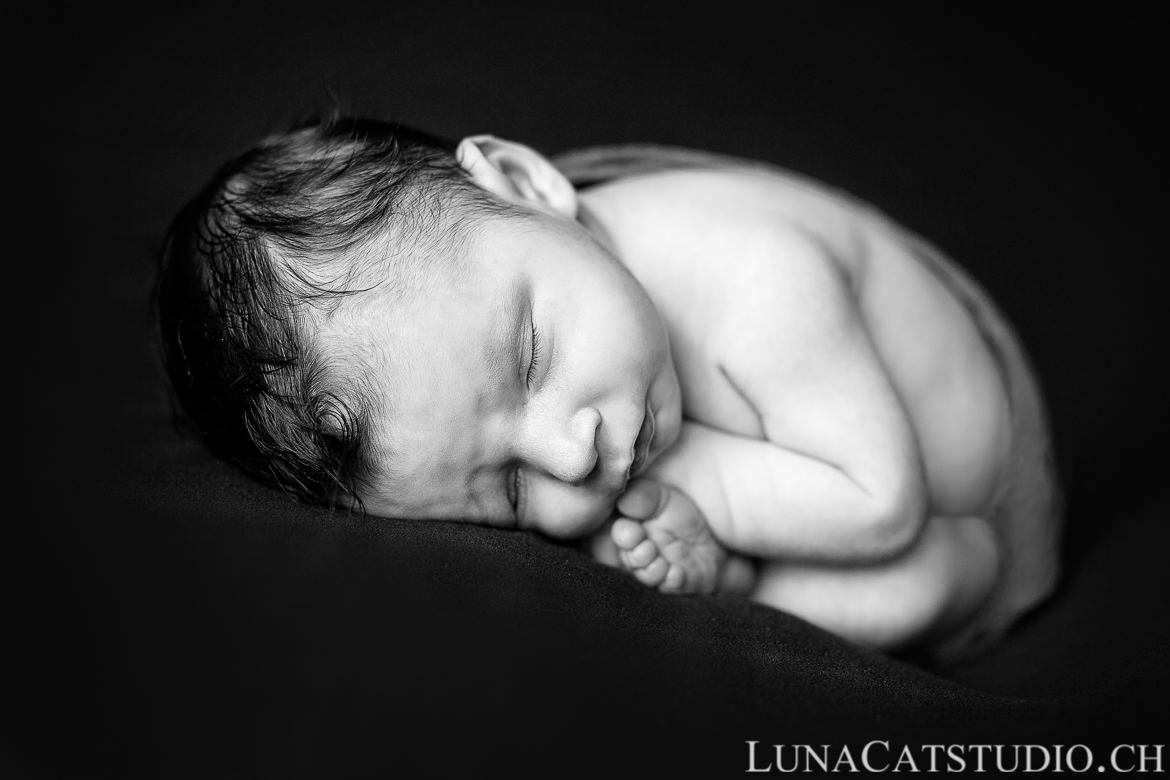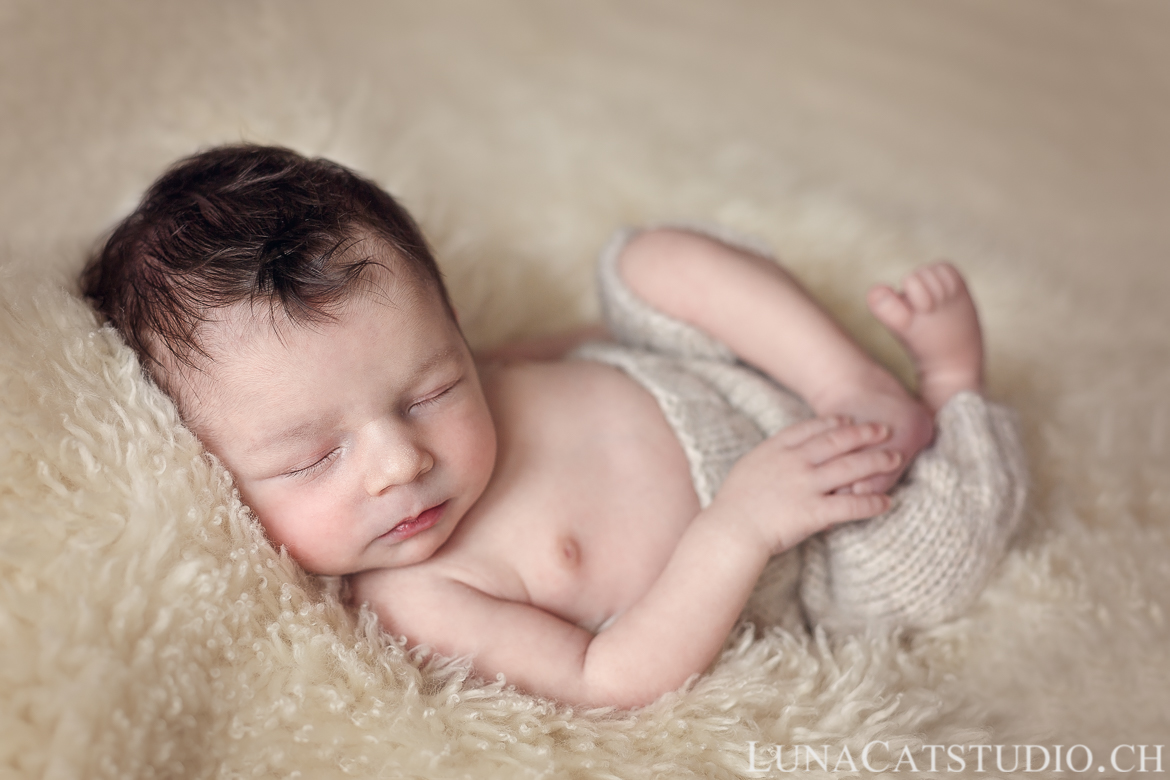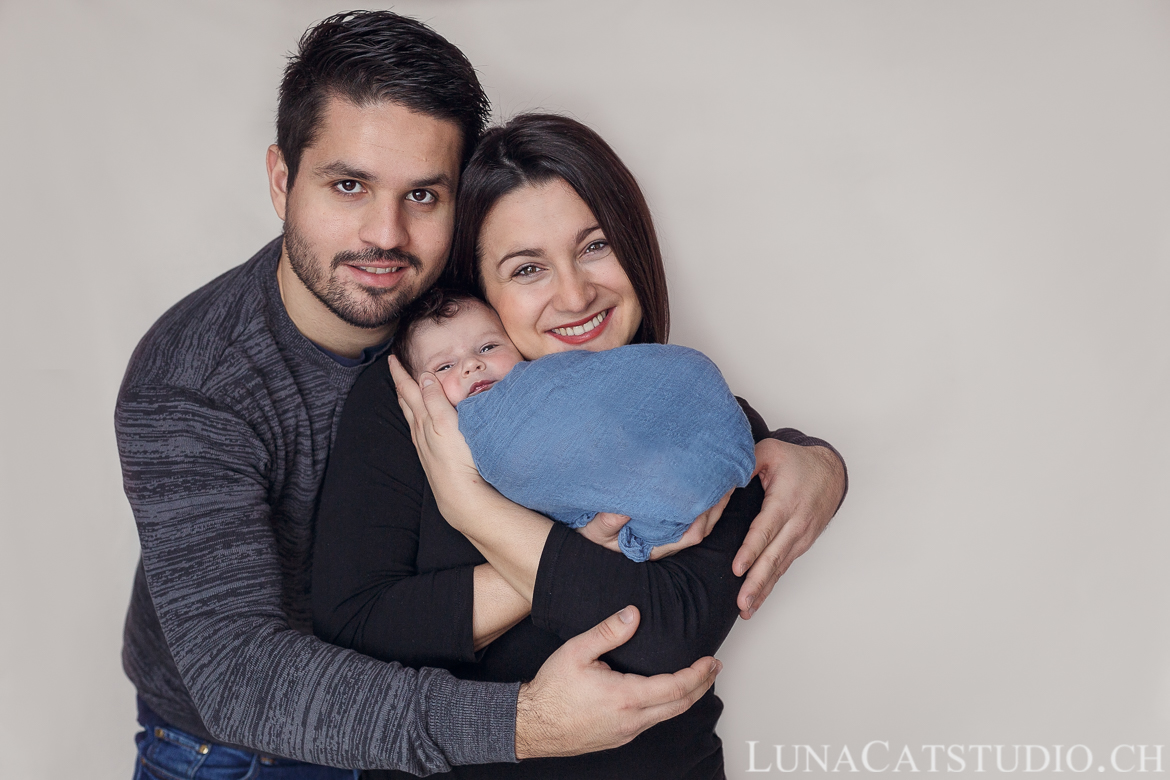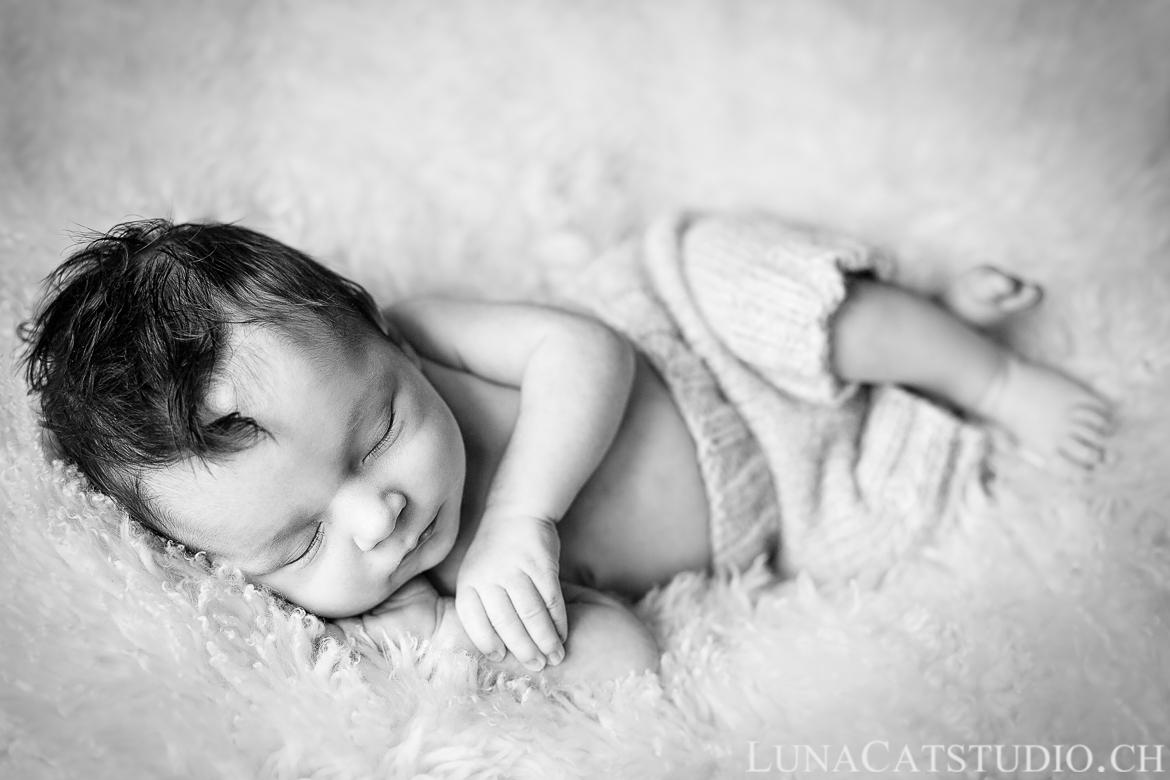 As in every newborn photo shoot, I love integrating objects dear to you. Here, Léo received a customized comforter from Petite Année store.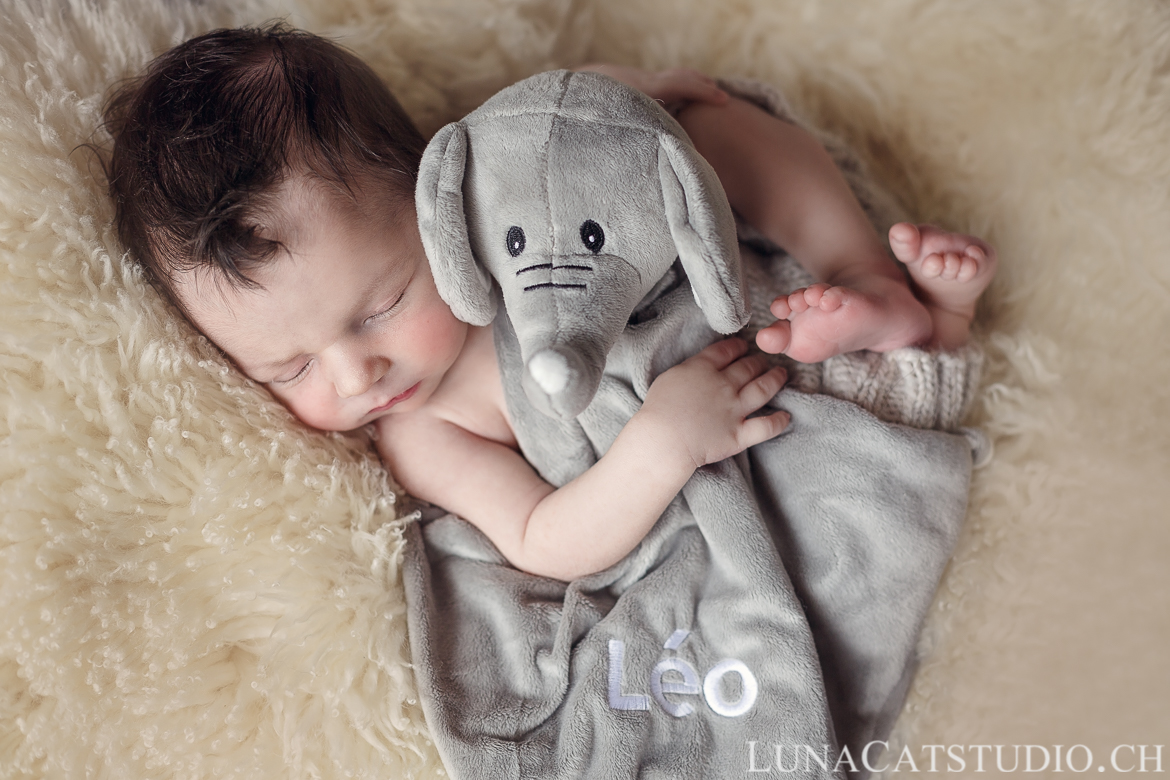 A photo of men only with Léo and his dad to keep great memories from his photo session.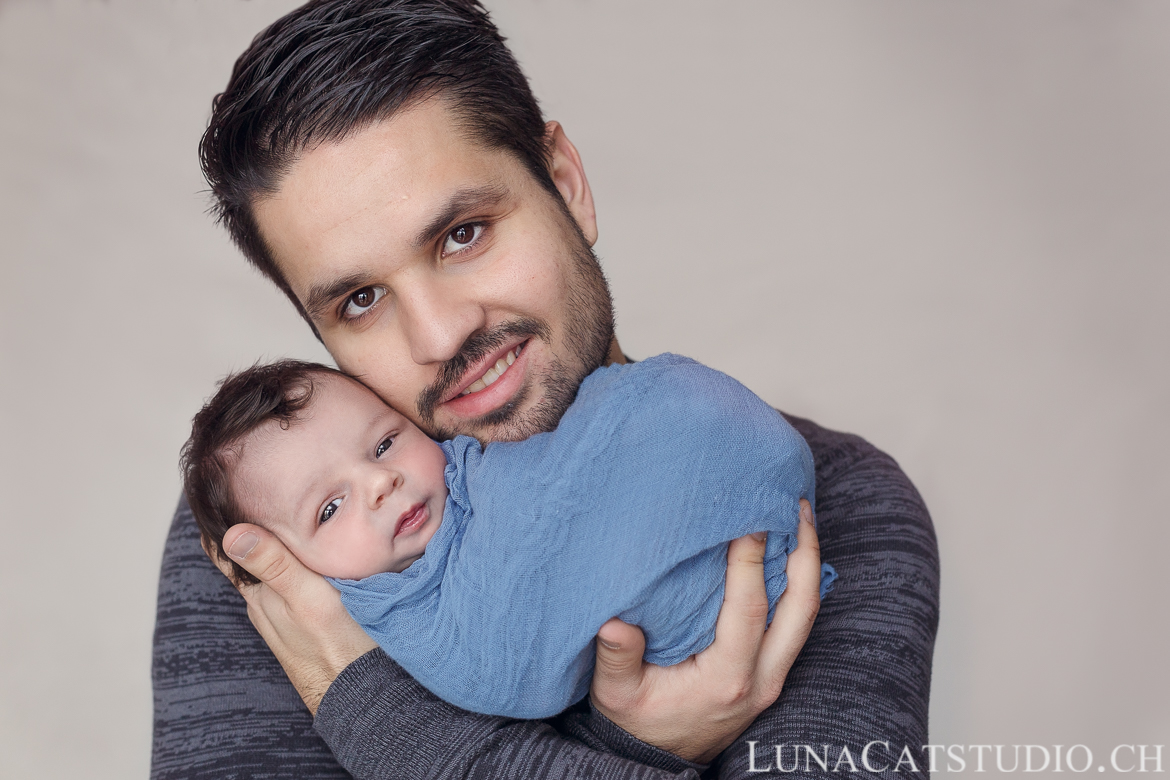 And Léo will not disagree as he was smiling multiple times during his newborn photo sessions, baby smiles that I love immortalizing!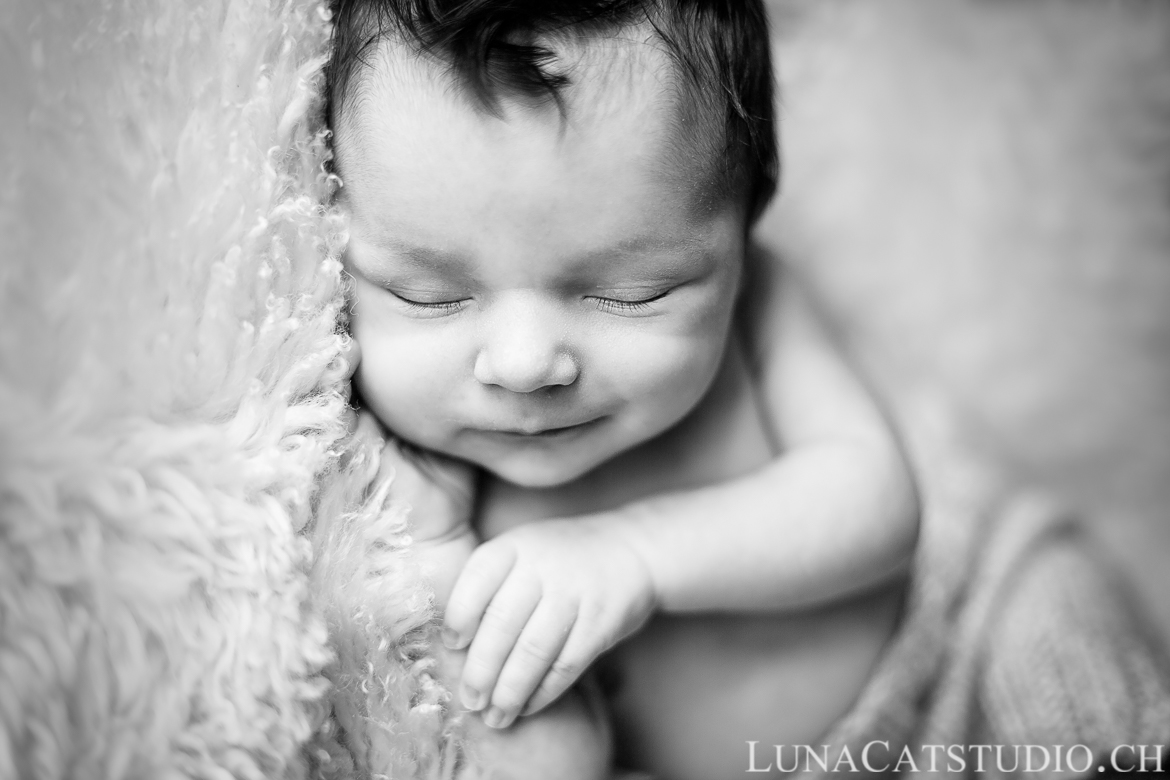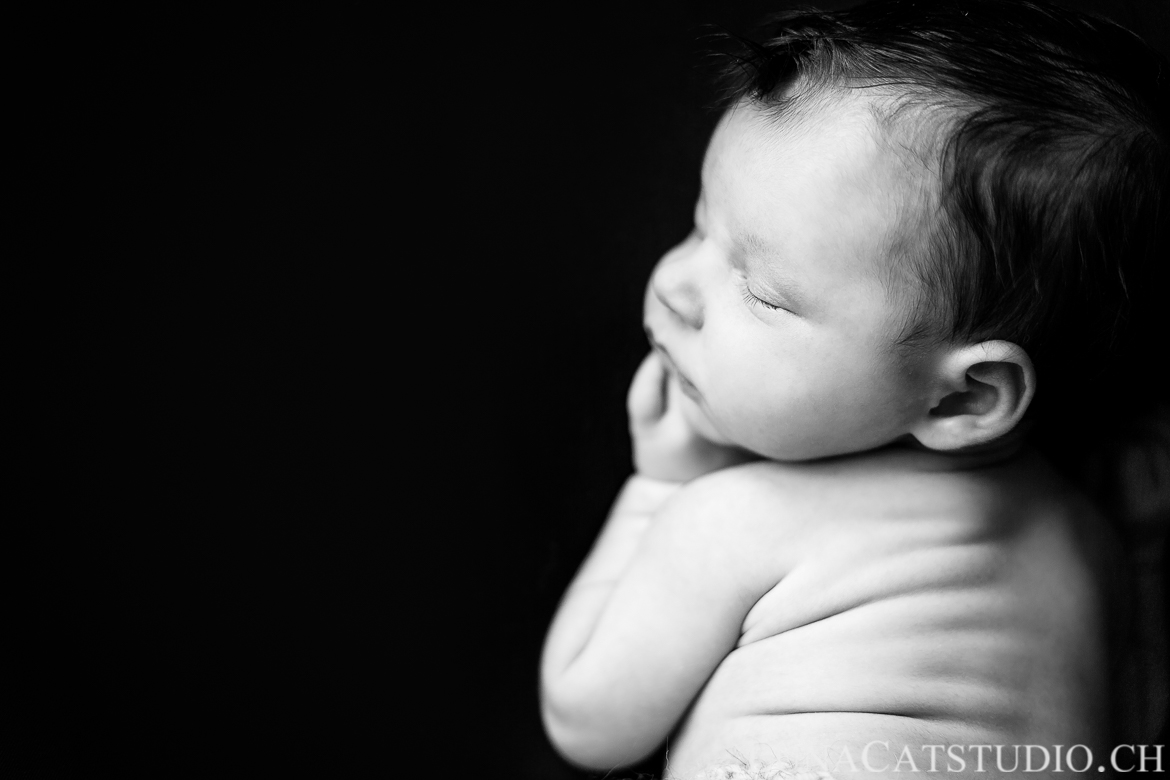 Follow the newborn photographer LunaCat Studio on Facebook – Google+ – Twitter – Instagram – Pinterest for other newborn photoshoots as a newborn photographer.
---
About Cathy:

Neuchatel newborn photographer

Newborn photographer LunaCat Studio offers to new parents in Neuchatel, Lausanne, Geneva, Nyon, Gland,Yverdon, Montreux, high-quality newborn photography.

Based in Lausanne in Vaud, Switzerland, LunaCat Studio offers as a creative newborn photographer a unique treatment of your baby's first days with artistic and wonderful imagery with newborn photos after your baby's birth. The newborn photo session stays a privileged moment to immortalize the first days of your baby after his/her birth in Fribourg.

Newborn photography services

LunaCat Studio offers its baby photography during a newborn photo session in Neuchatel and the rest of Switzerland in Lausanne, Nyon, Montreux, Geneva, Yverdon, Fribourg, Vevey. Contact me for more information on your baby photo session.

You are not looking for a newborn photographer? LunaCat Studio is also specialized in pregnancy photography and baby photography.