Mégane and Maël are not newly wed and make a great family with their beautiful son Keylan. By the way, I am beginning this post with a picture of Keylan's wonderful shoes with his dad's flower in the buttonhole. You will see in the rest of this wedding post that Keylan had also a gorgeous suit for his parents' wedding day. 
Bride's preparation
For this wedding in Valais, we begin with the traditional bride's preparation at home. Mégane is a hairdresser and she got her former teacher to make her hair, giving emotional moments between them.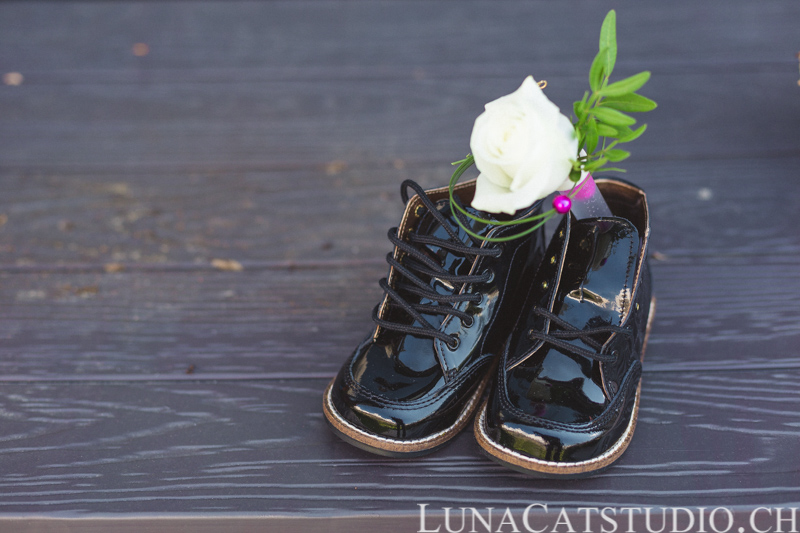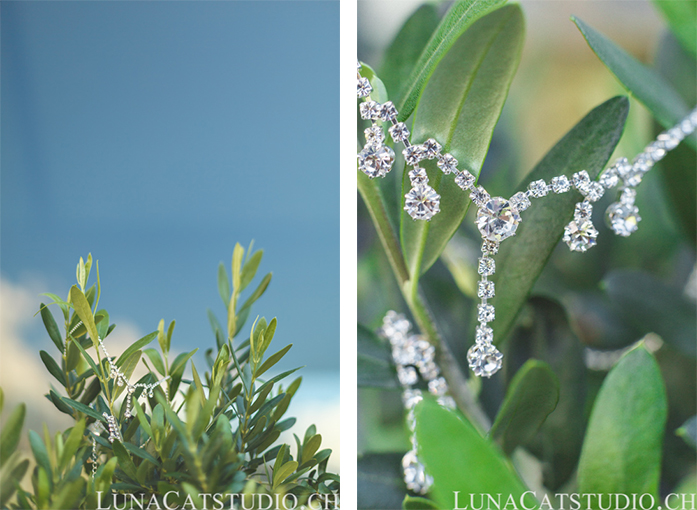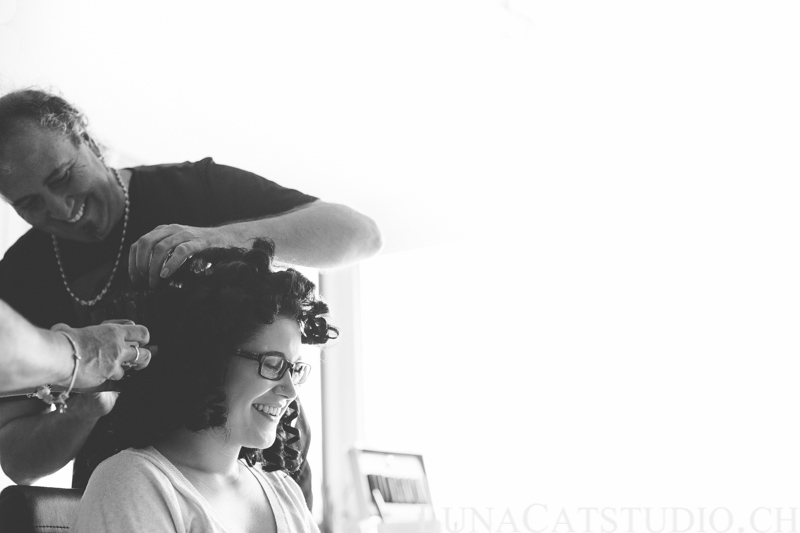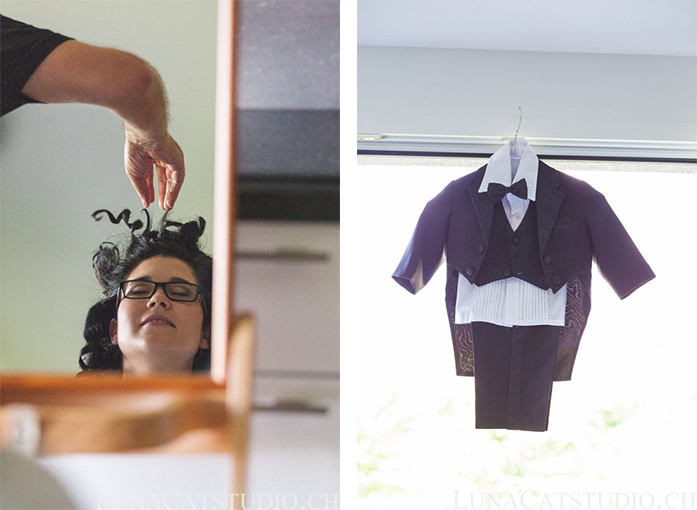 I told you so, Keylan has a gorgeous suit for his parents' wedding day!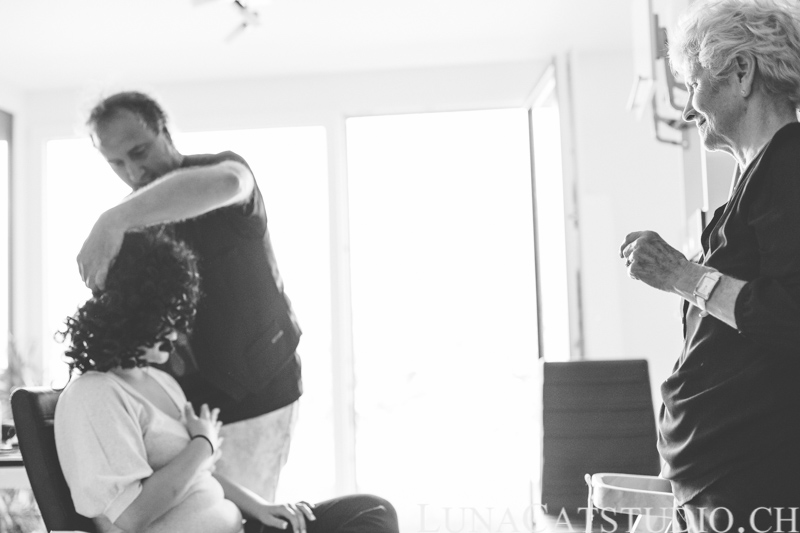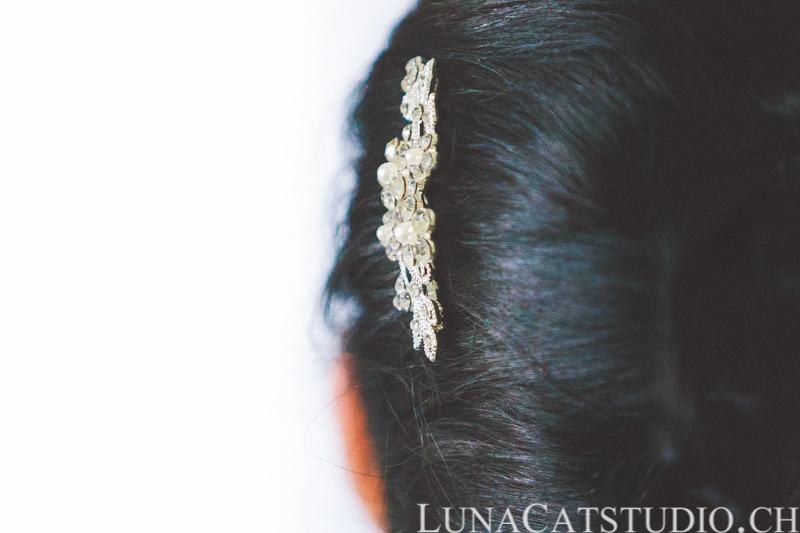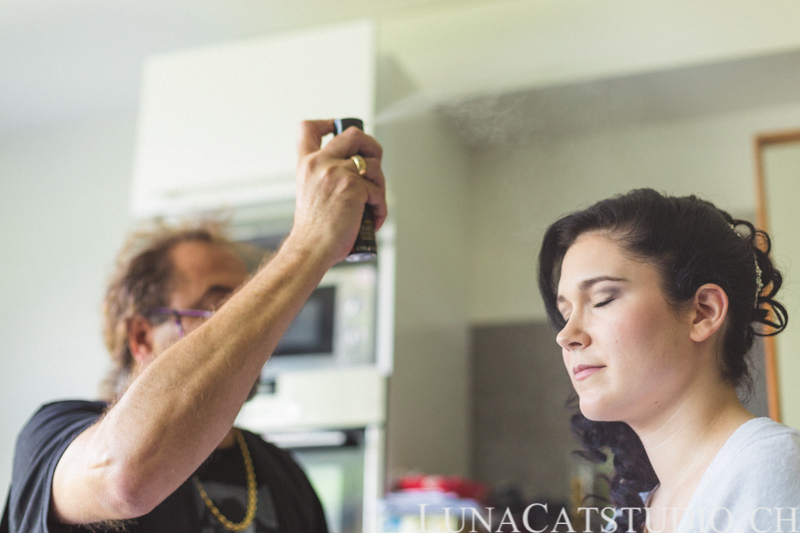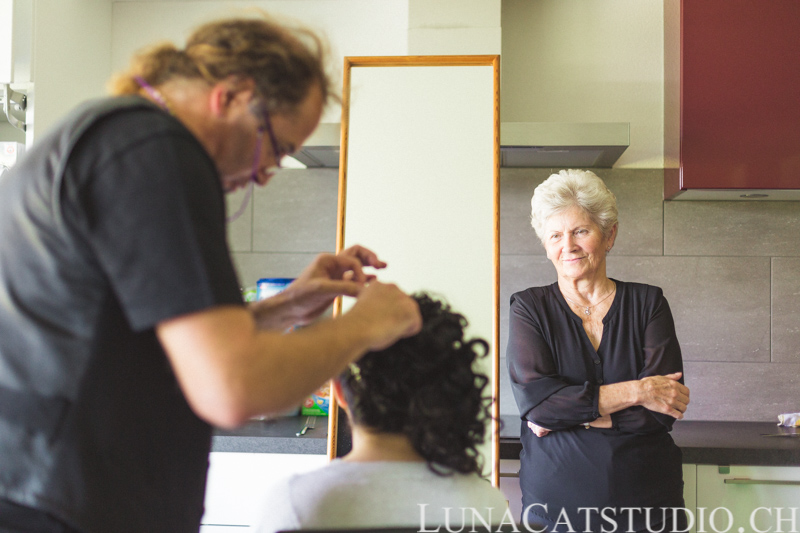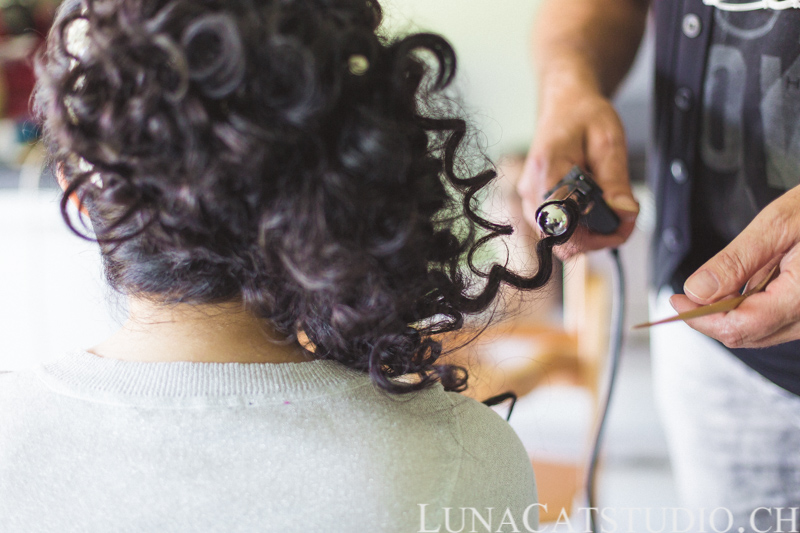 After effort comes comfort! This bride's preparation got everyone hungry and the family had prepared a small apéro with local food products that were really nice to get some energy before heading to the religious ceremony in Martigny.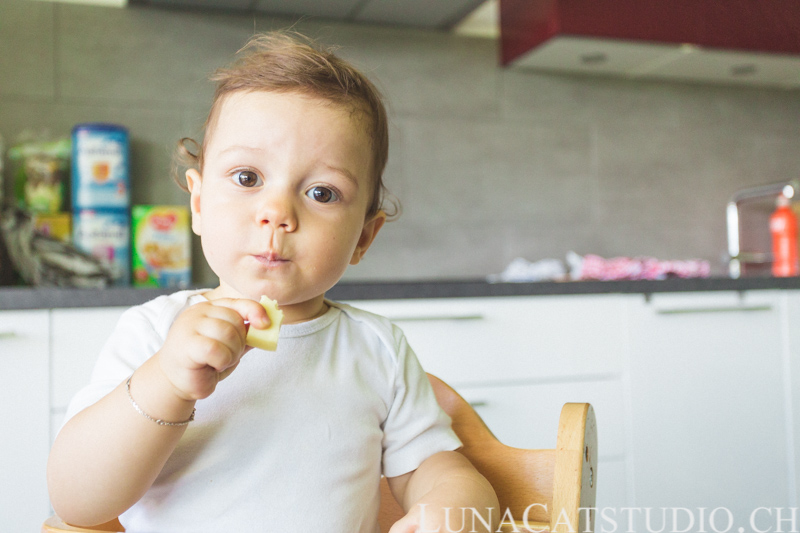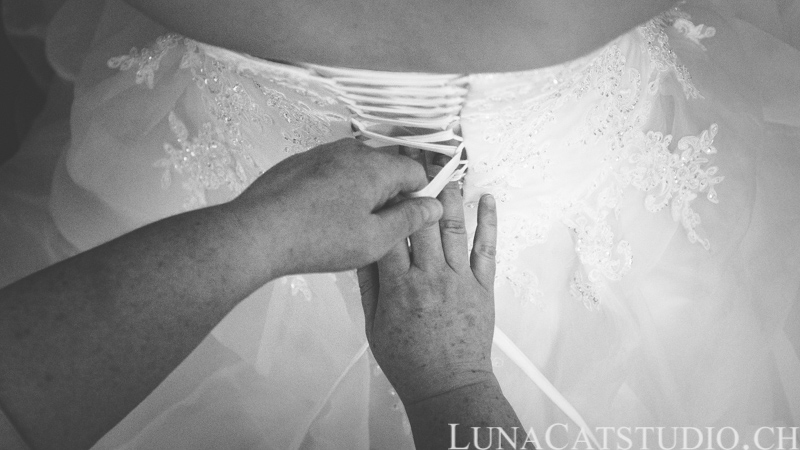 After that, it was time to put the dress on and show it to the men in the house. The following picture just speaks by itself how beautiful Mégane was in the dress!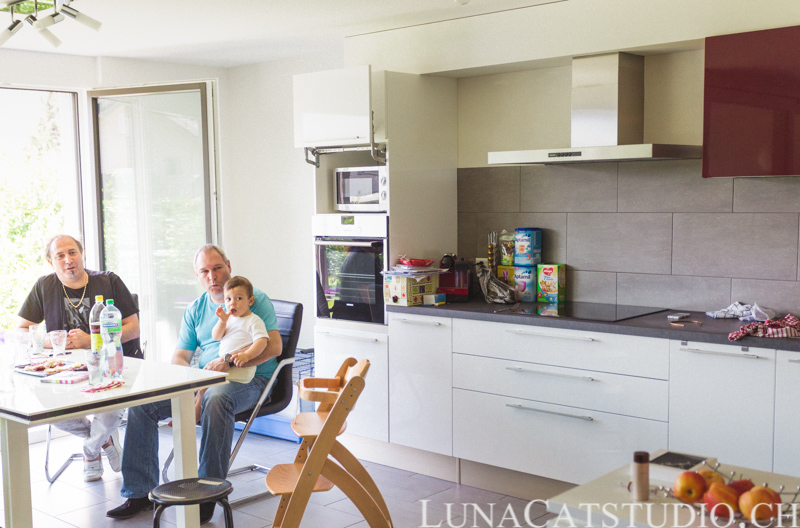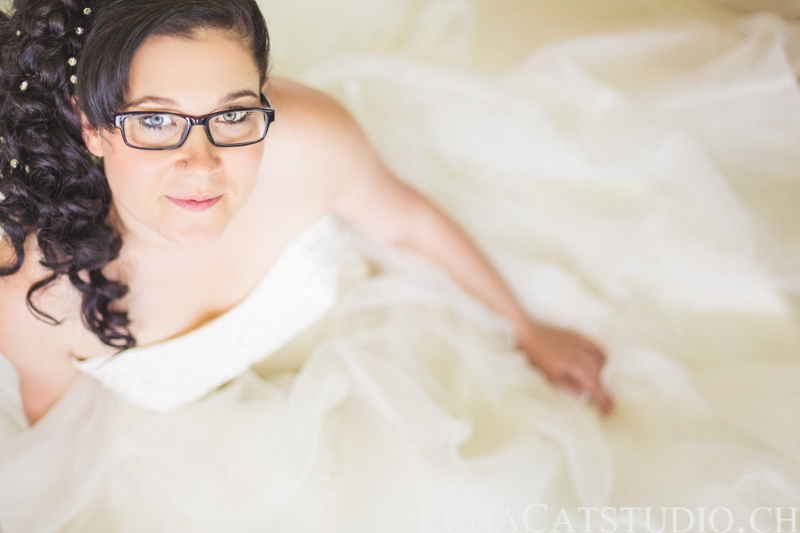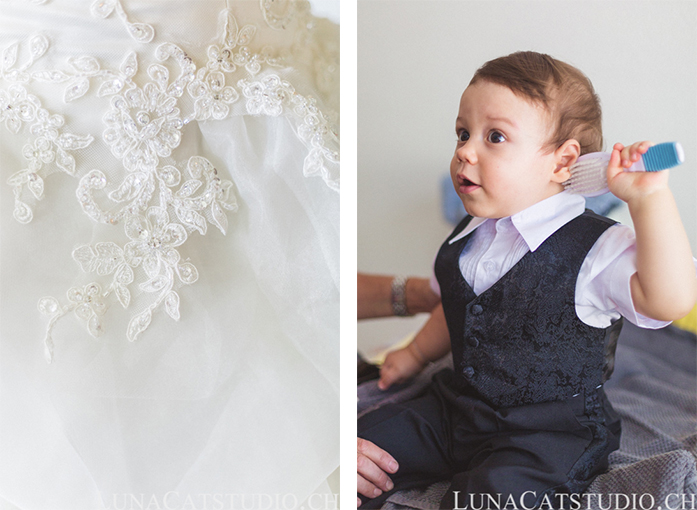 Let's go to Martigny now to celebrate the wonderful wedding day of Mégane and Maël!
Religious wedding ceremony at Martigny-Croix Church
It is in a wonderful contemporary church that the wedding ceremony takes place. Gorgeous white and purple orchids were used to decorate the church.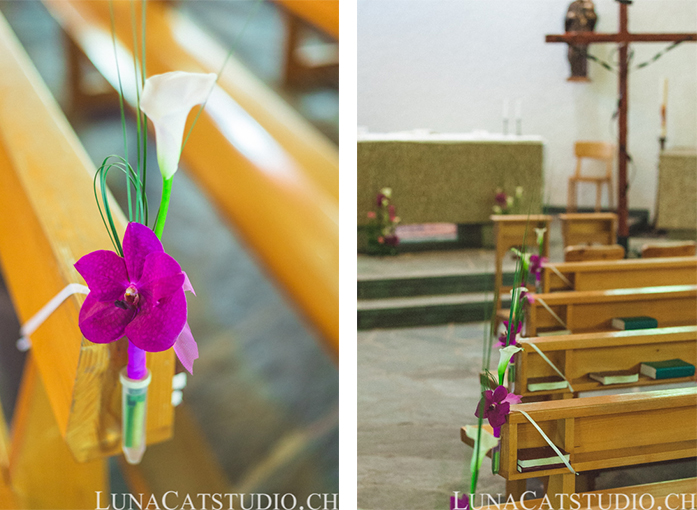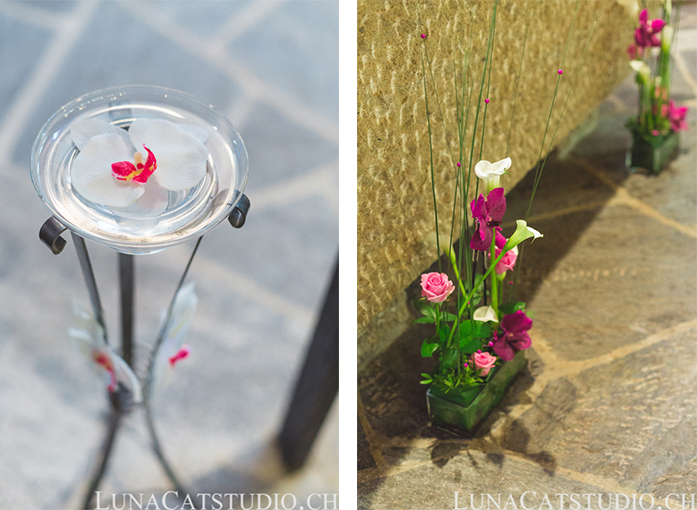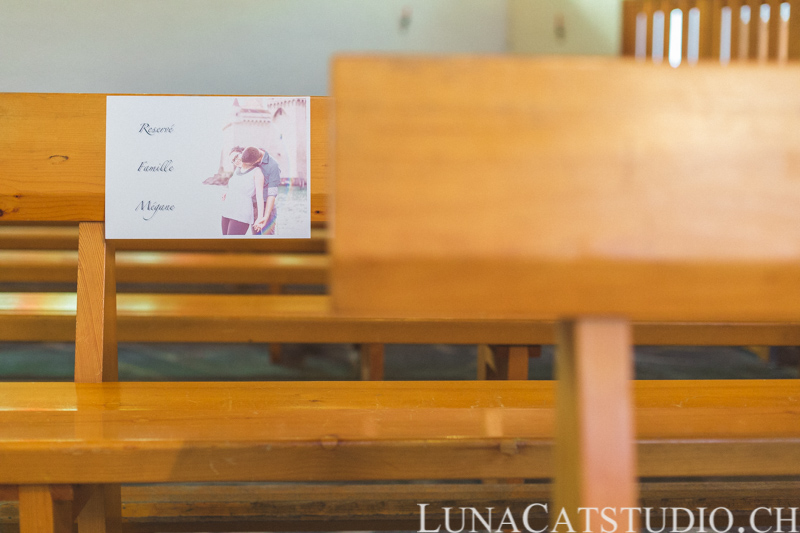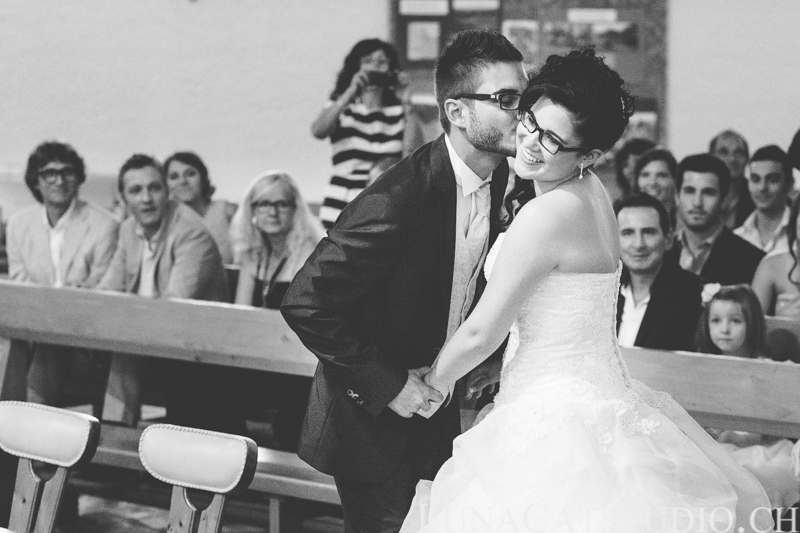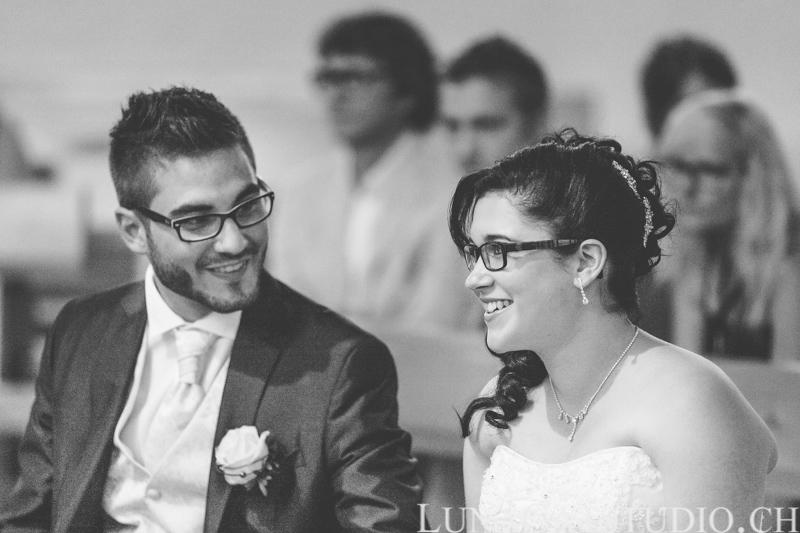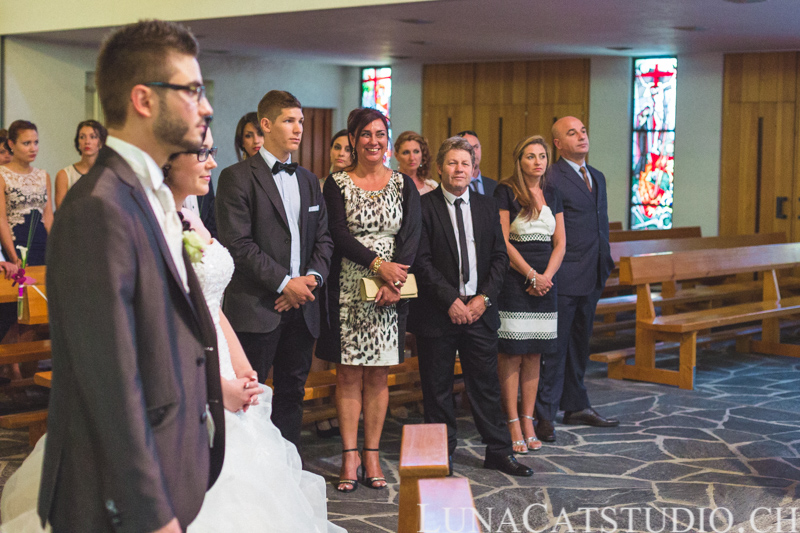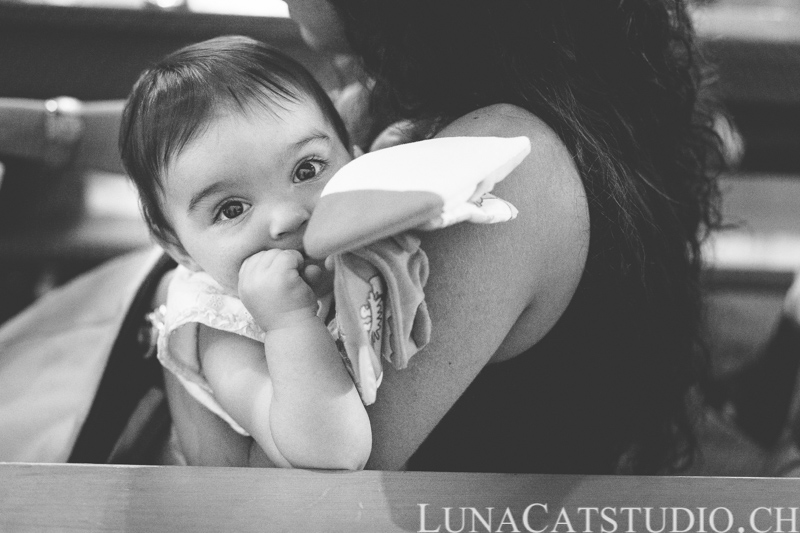 Just look at how happy Mégane and Maël are, they are so moving!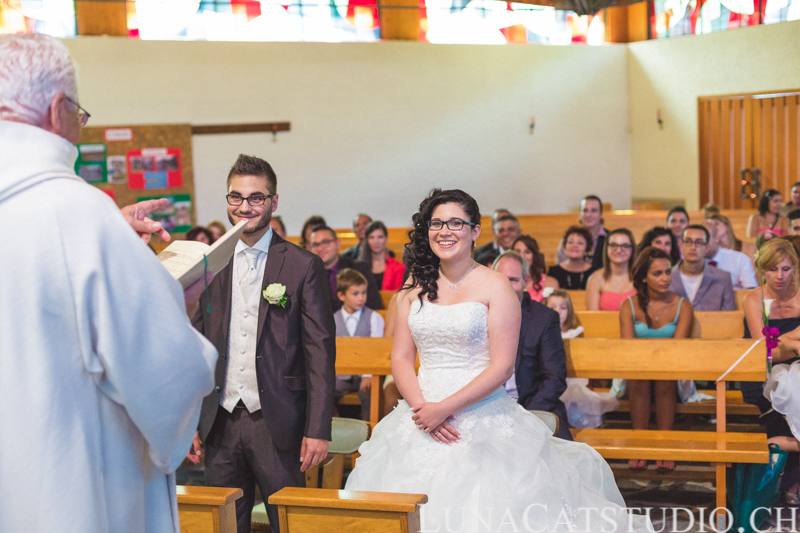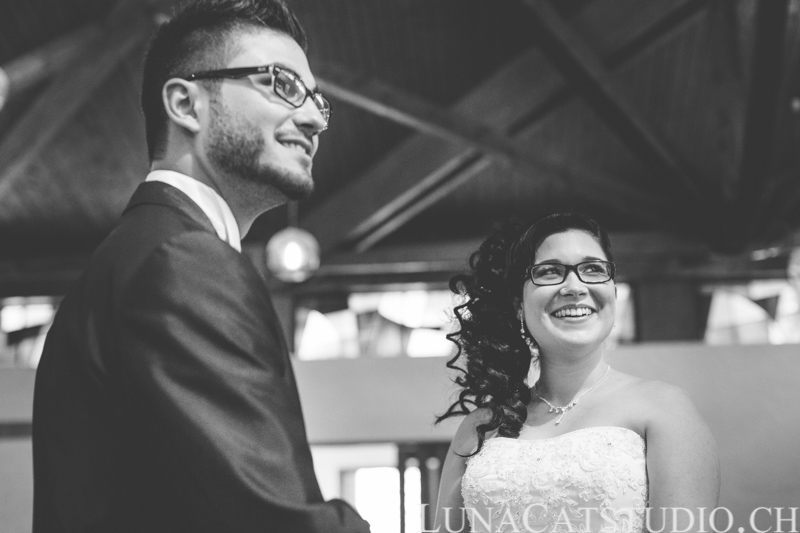 And this emotion is transmitted to all the people at their wedding and I must say I love documenting all this live in photo.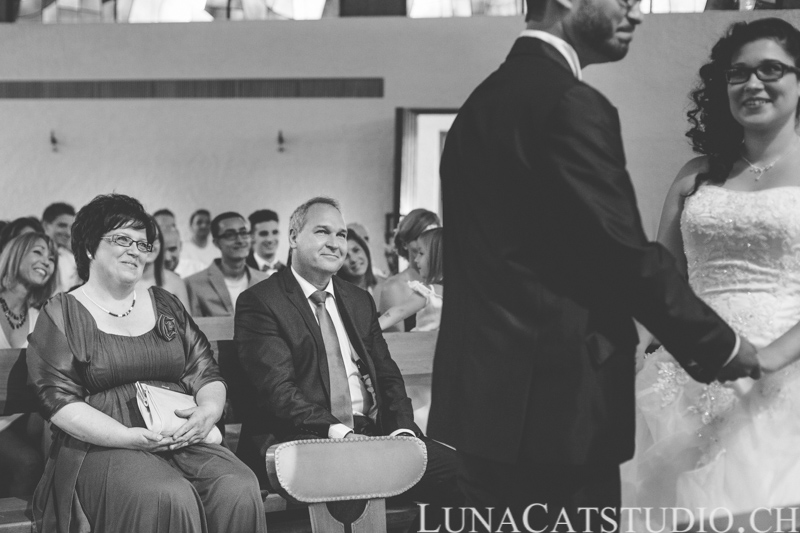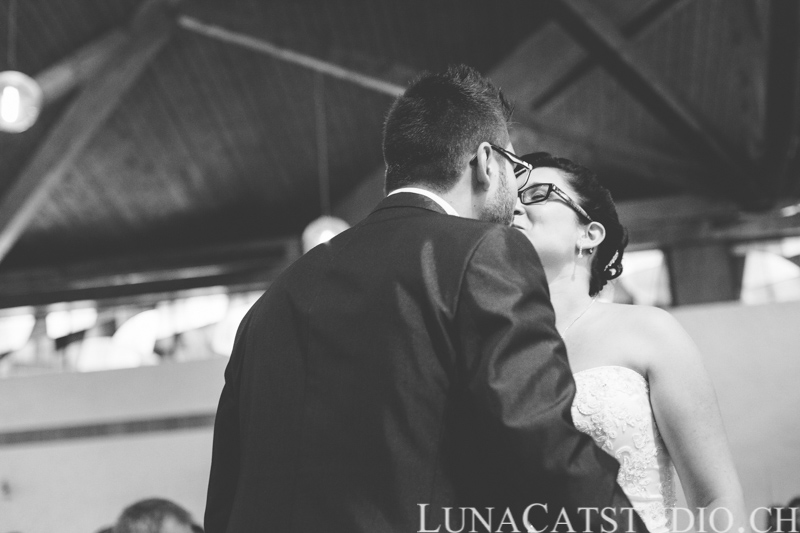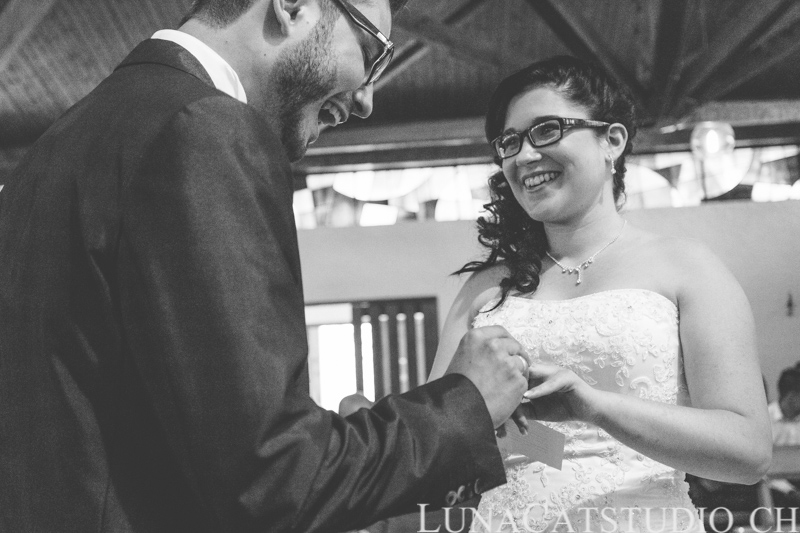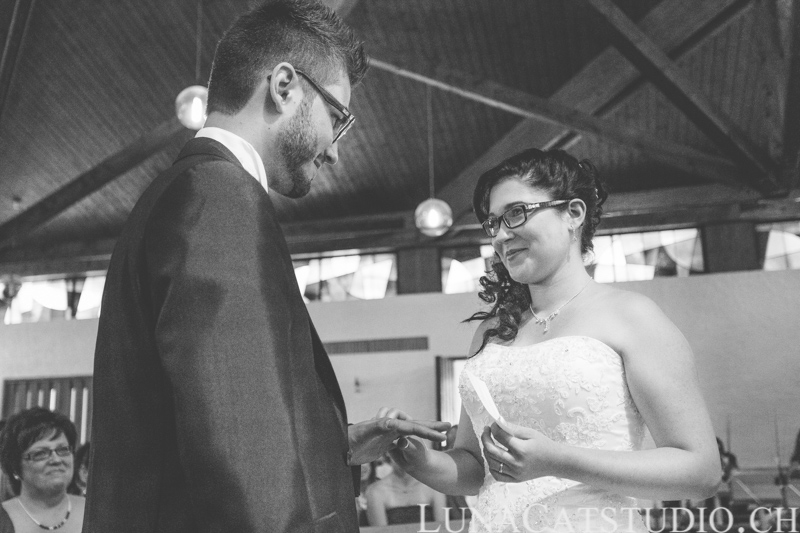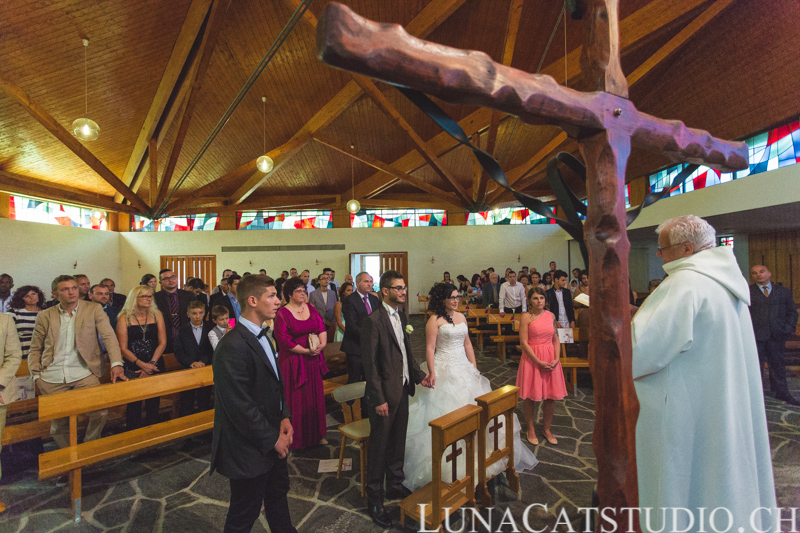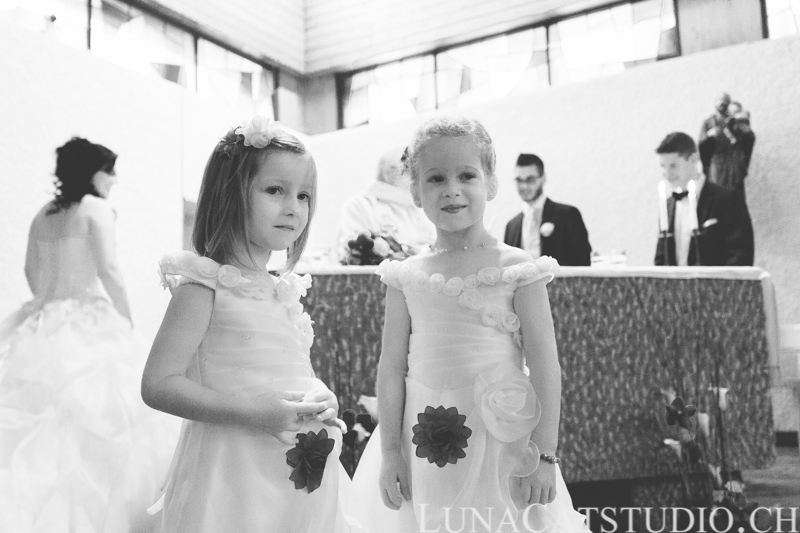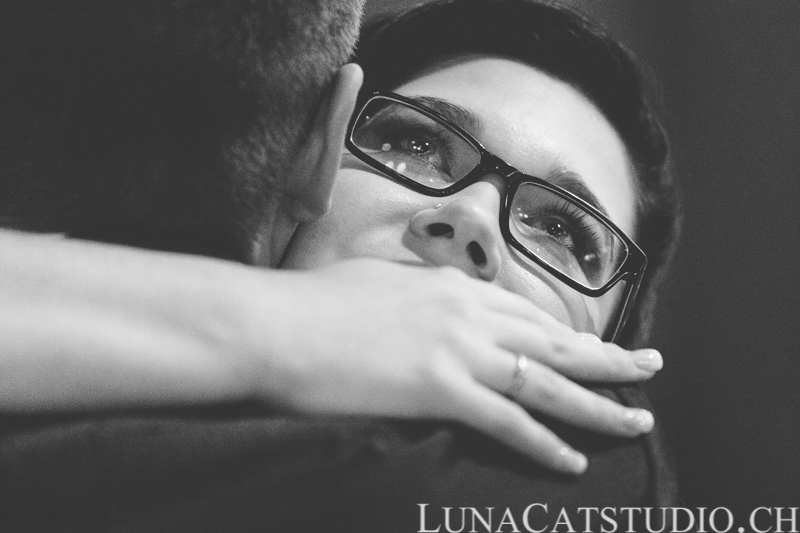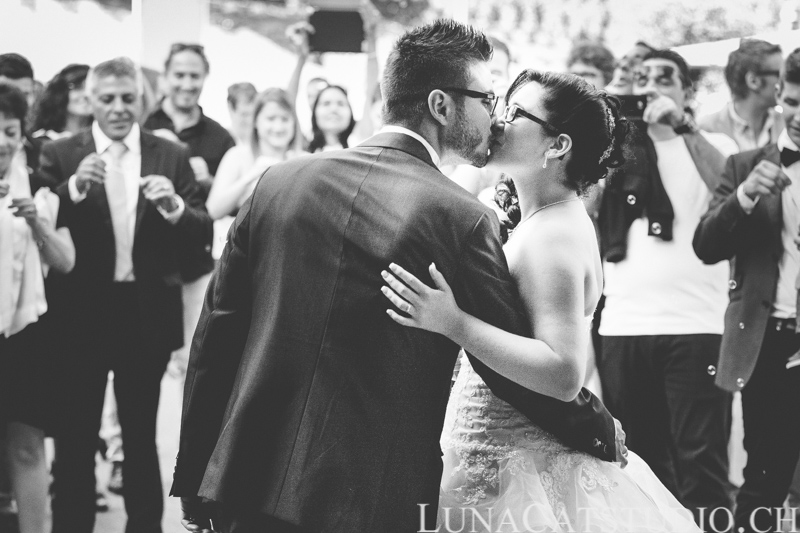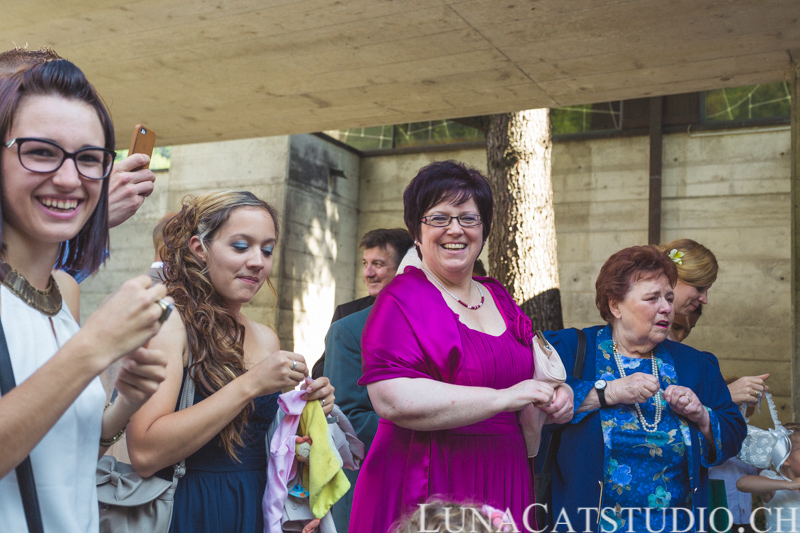 Apéro at Martigny Fromathèque
After the religious ceremony, it is DJ Ludo, who takes the lead to bring everyone to the next reception place which is just next to the Church. At least, the guests would not be lost ;).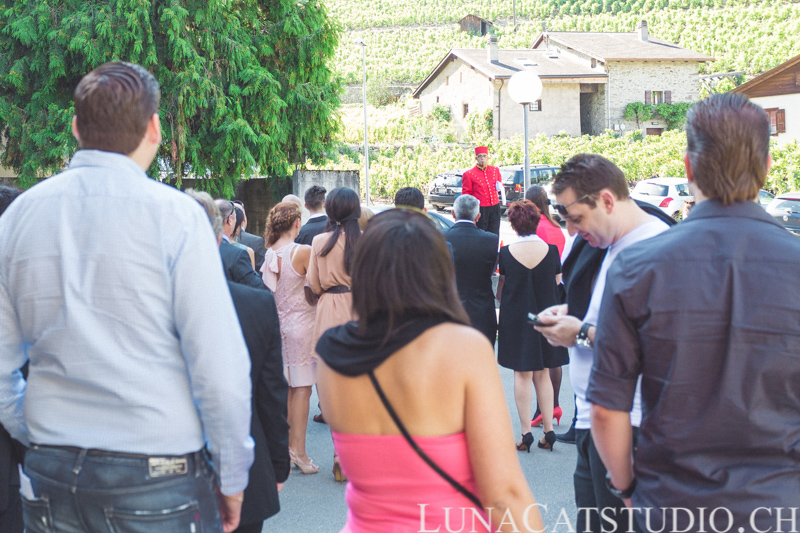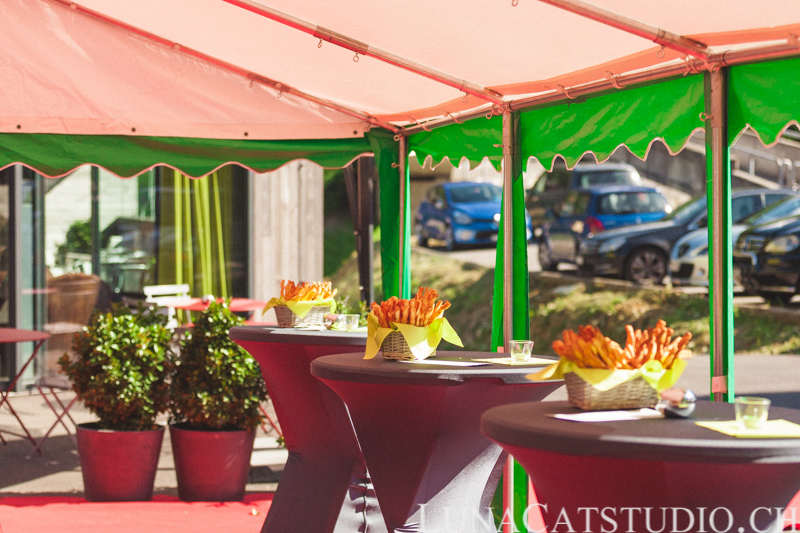 Did I already say there was so much positive energy in this wedding? Everyone is so happy that it is a real treat to be shooting this wedding.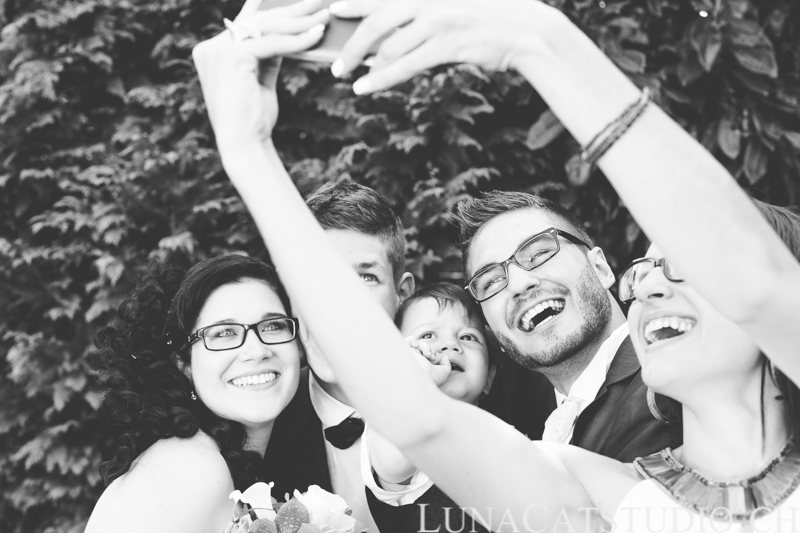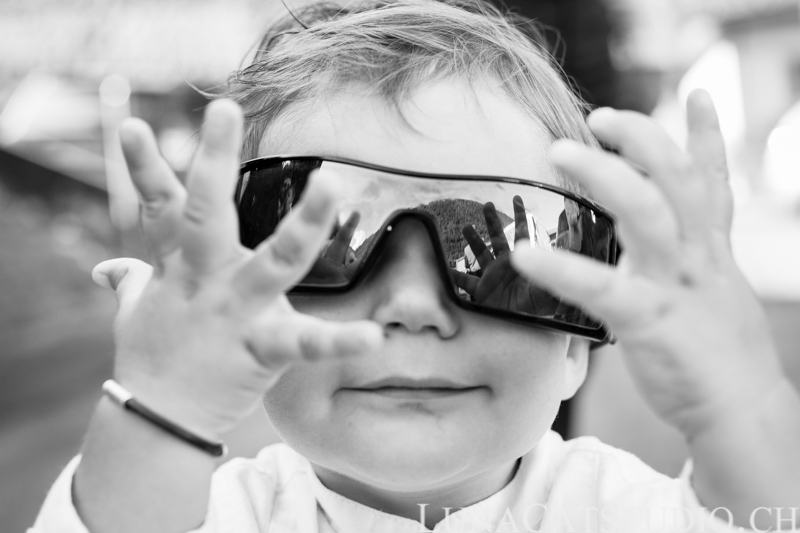 I did not know the Fromathèque and it was lovely to discover local food during this apéro. As a fruit juice lover, I left buying some local fruit juices from them (apricots, strawberry an pear) because they were so delicious. Thanks again so much Mégane and Maël for this great discovery!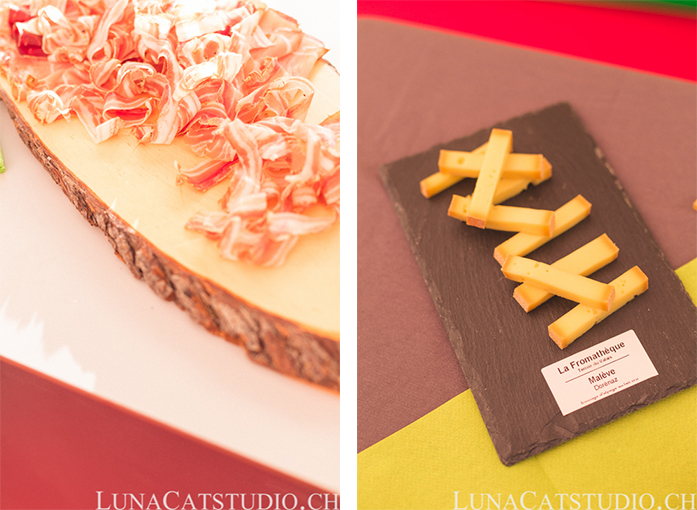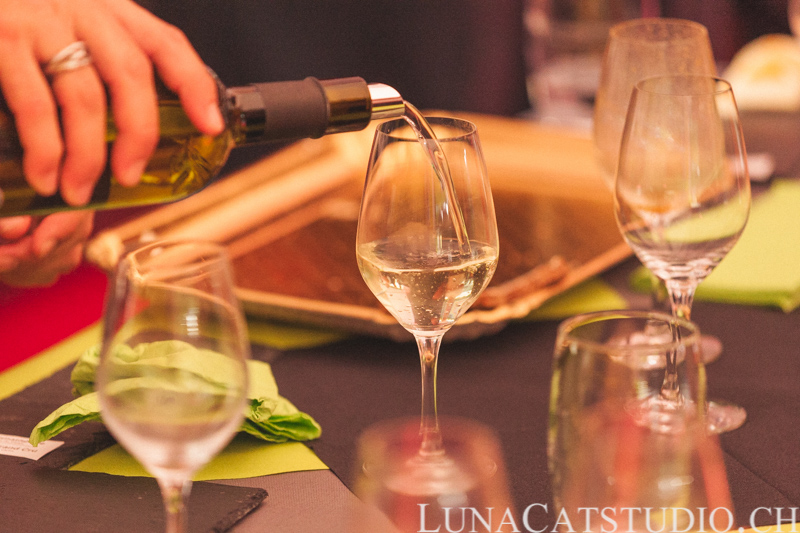 The apéro did not slip, it is just that the energy bottle was still full and the bride and groom were so happy we got some fun with pictures. The couple's friends were wonderfully sharing the same energy and we had so much fun creating those memories in pictures! During that time, DJ Ludo had taken his trousers off to make the show!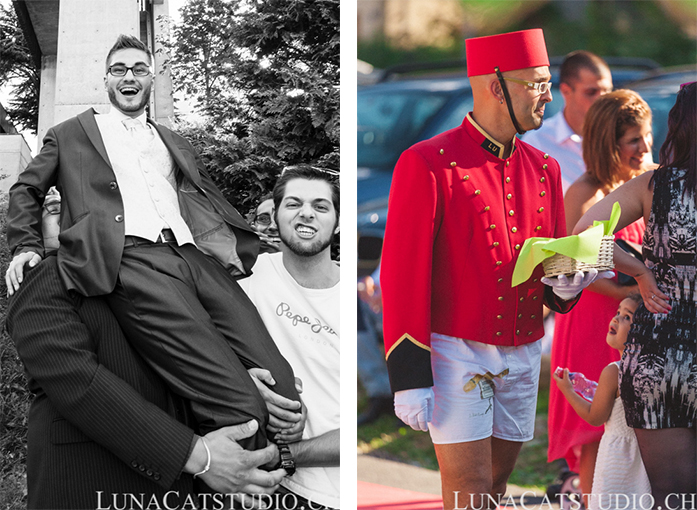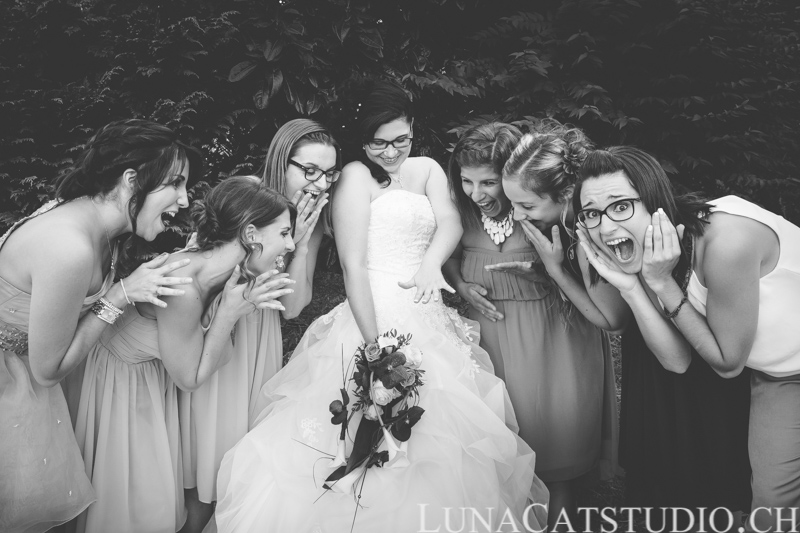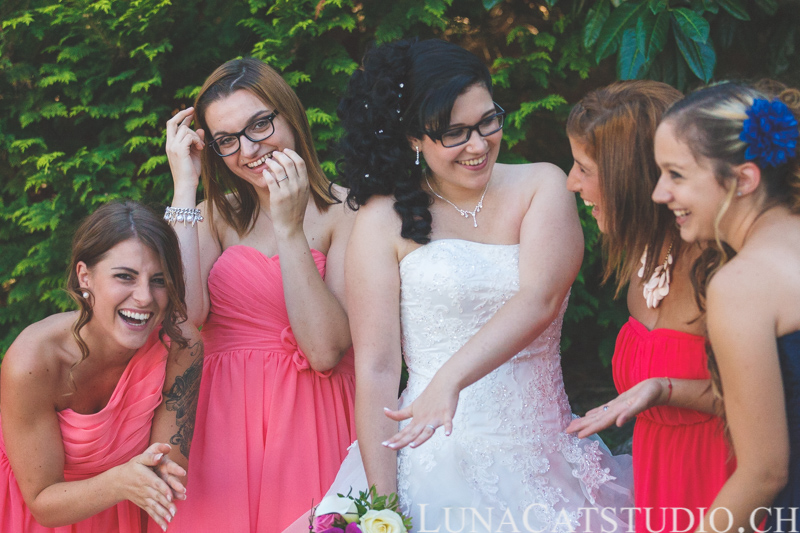 Those men just had to copy the women :)!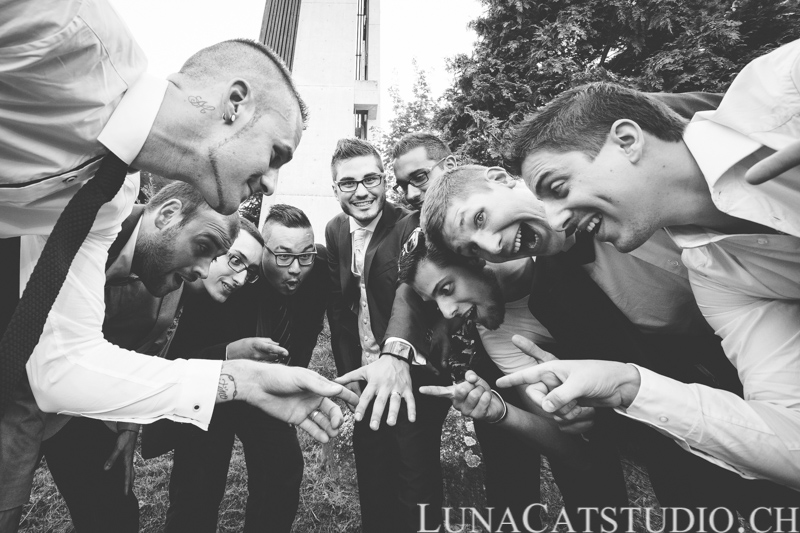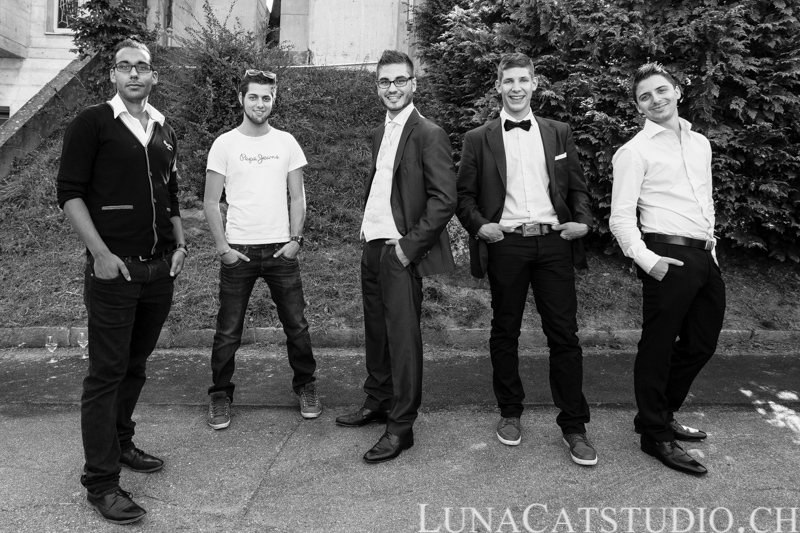 Couple photos in Martigny
At the end of the apéro, the light was perfect for some couple photos. Therefore, I kidnaped the newlywed couple so that we could do higher in Martigny. Maël knew where the scenery was the best and I trusted him, with gorgeous results I must say! I can tell you it was a wonderful moment spent with the two of them in this wonderful environment in Valais.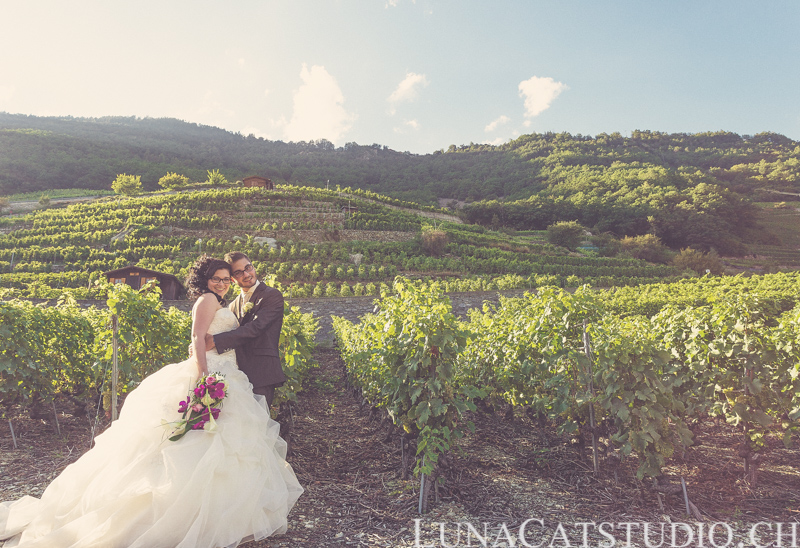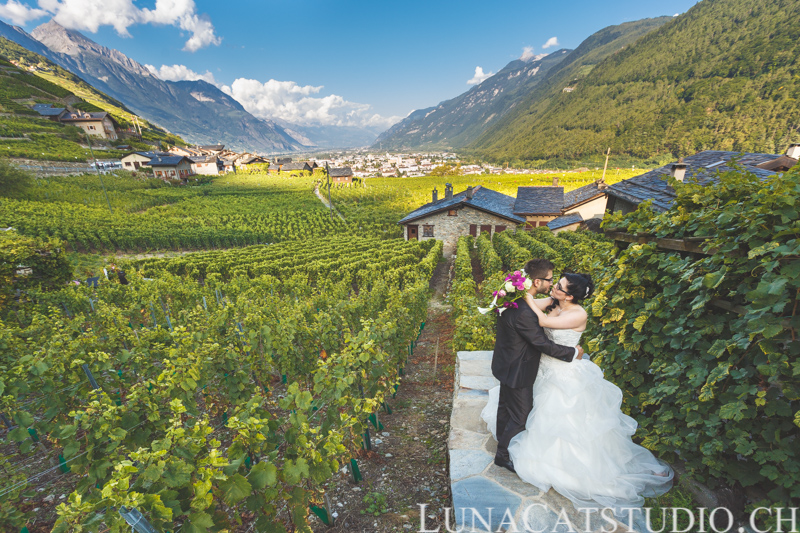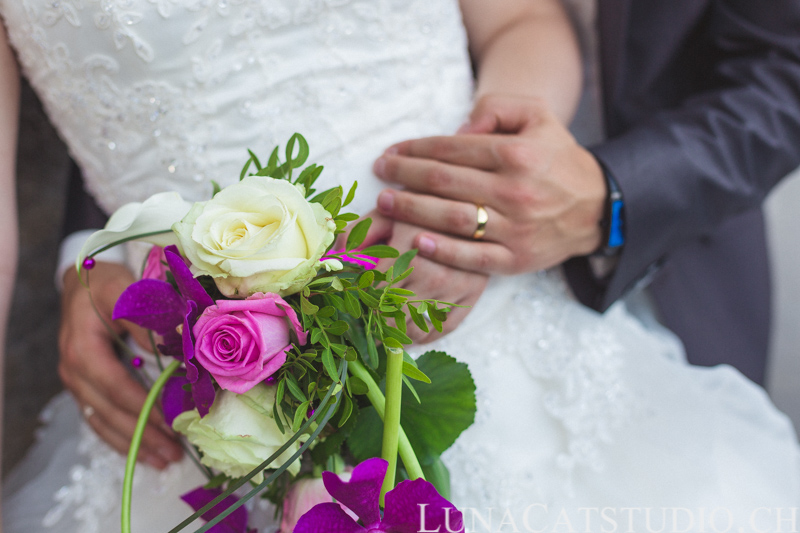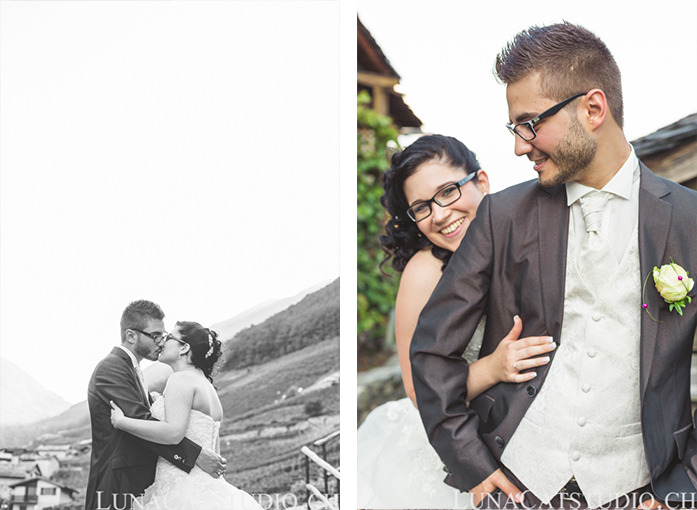 Wedding reception in Martigny
The wedding reception took place in the salle du Coude du Rhône in Martigny. The room was beautifully decorated by the couple, everything was handmade with the lovely white and purple colour scheme.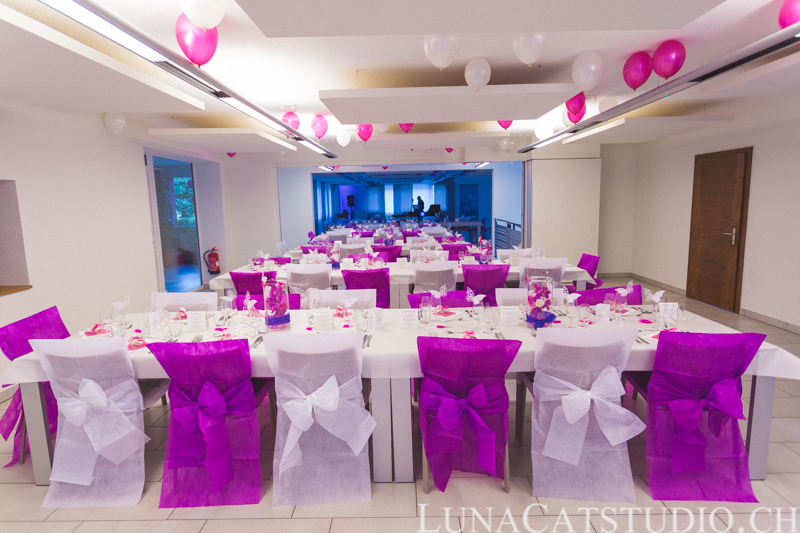 Every table was representing a country, the flag made as a butterfly on the table decoration.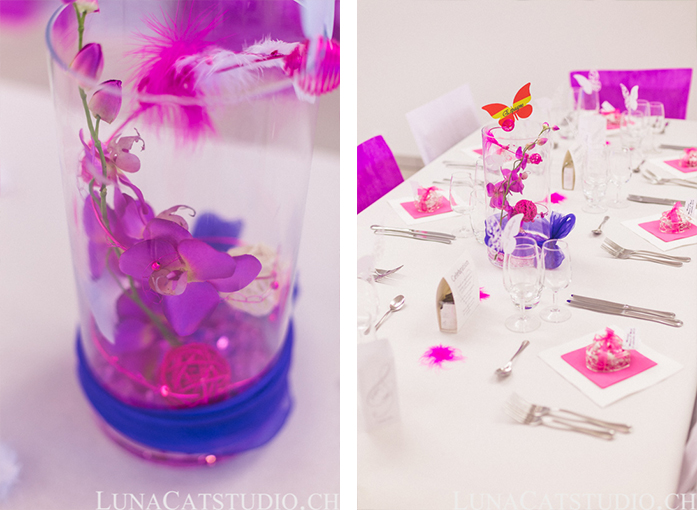 As a wedding photographer, I cannot be everywhere  to take pictures so I always love when I see those little disposable cameras on the tables so that guests can have fun taking pictures during the wedding reception to createprecious memories.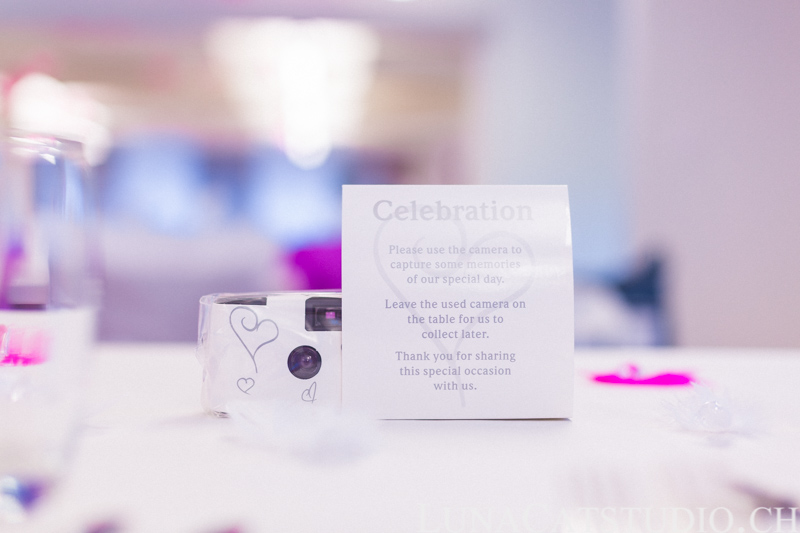 There comes the newlywed couple to launch the wedding reception and have some more fun!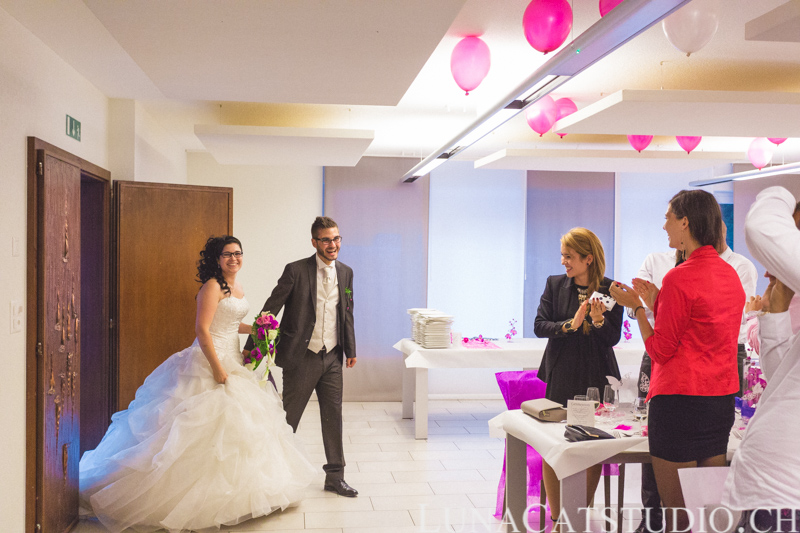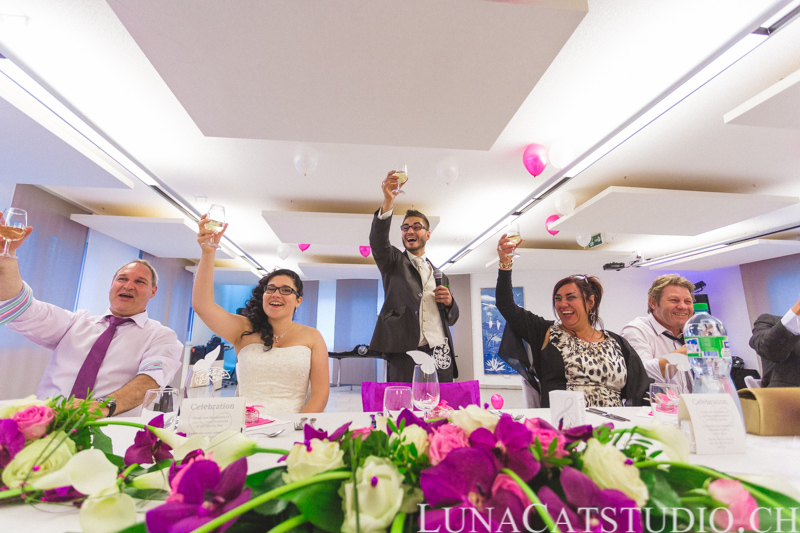 The dinner was colorful and pretty to shoot with so many details!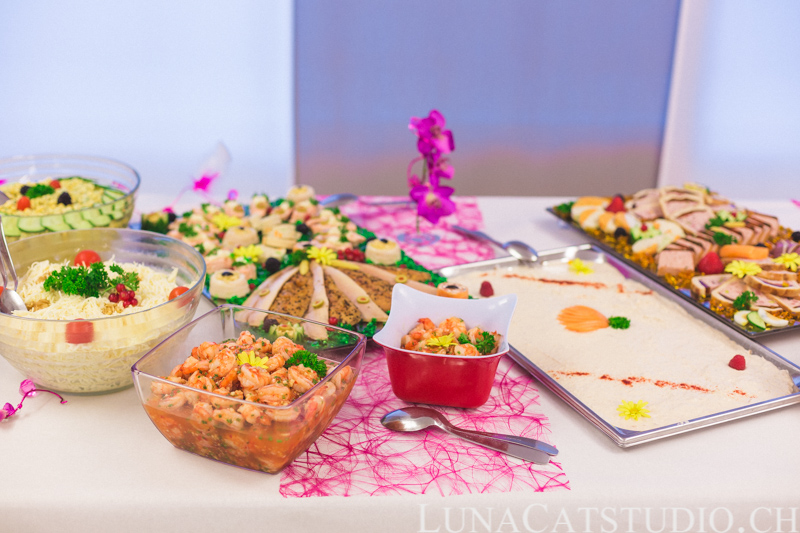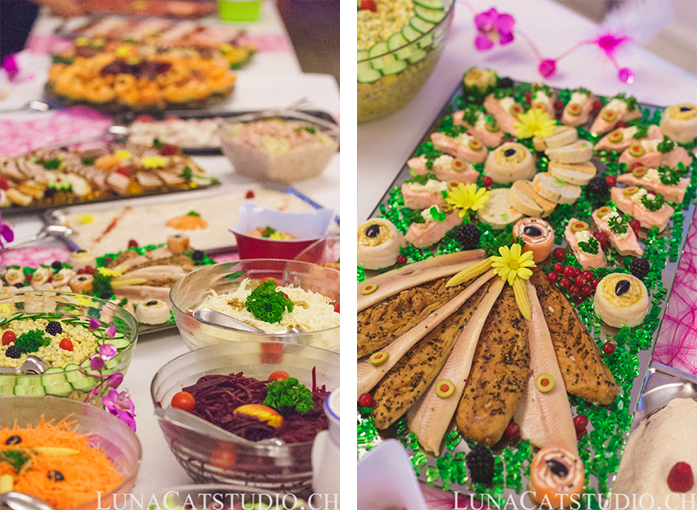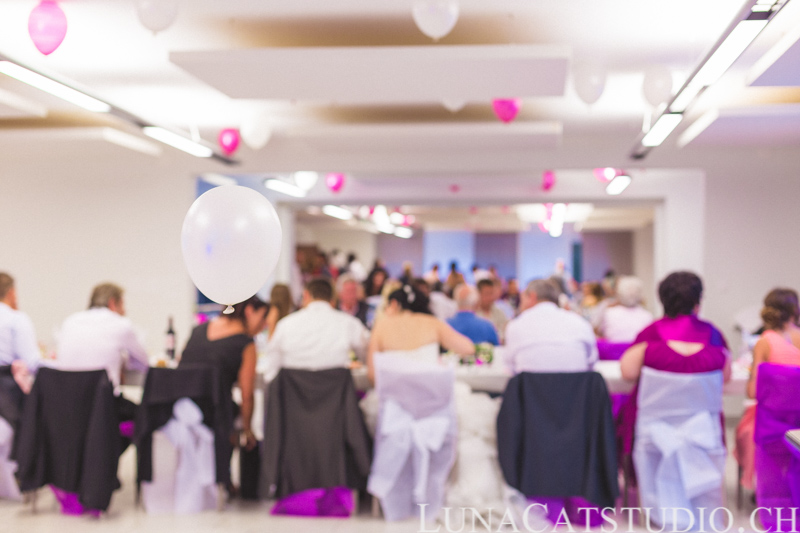 During the wedding reception, the couple went through the traditional emotional moments that I love capturing.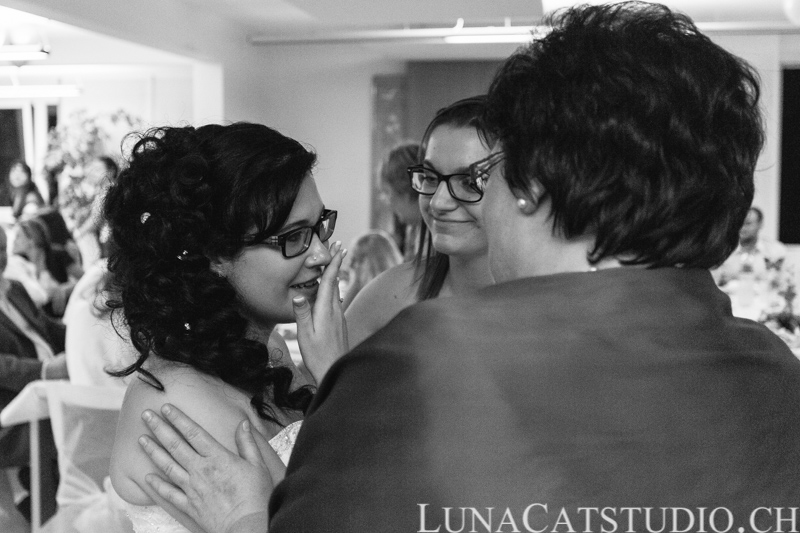 With such energy, it was time for some games! Guests were playing fully and I had to run to follow them :). For sure, the joy was in the room and everyone was laughing so hard it was a wonderful moment.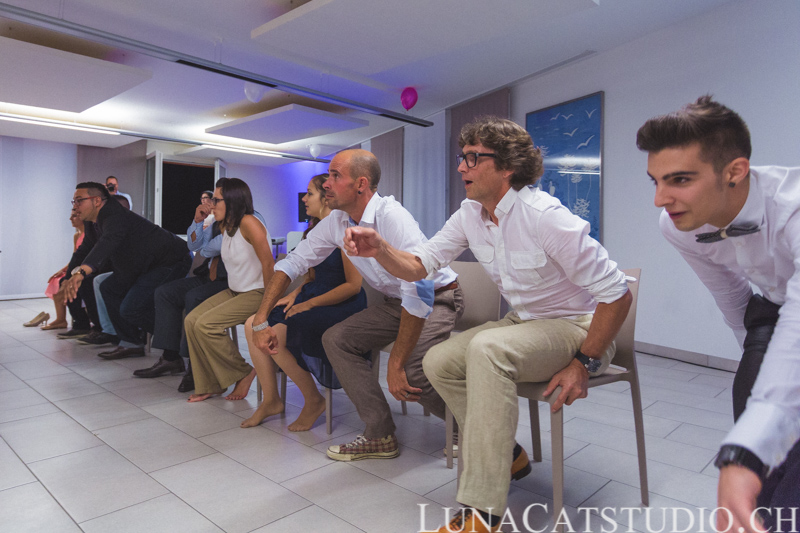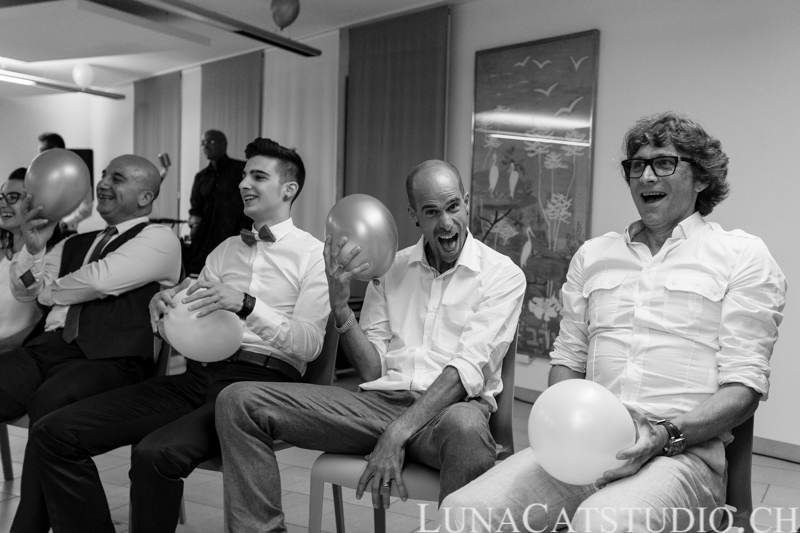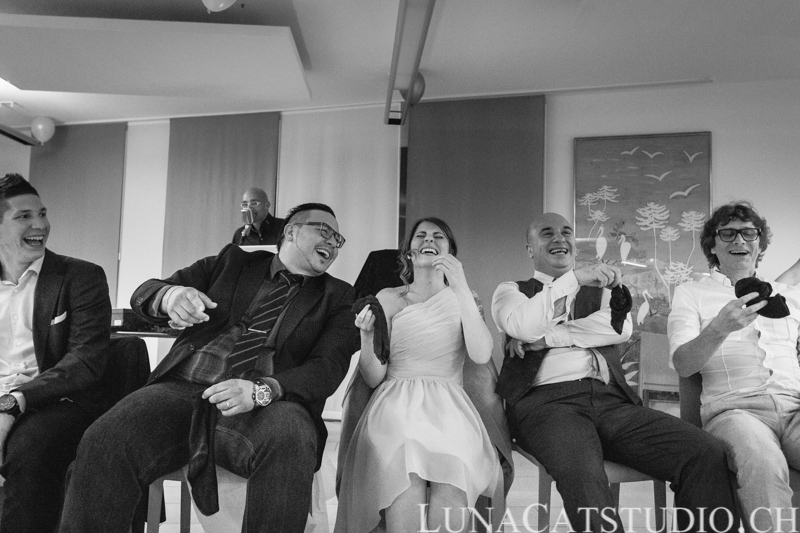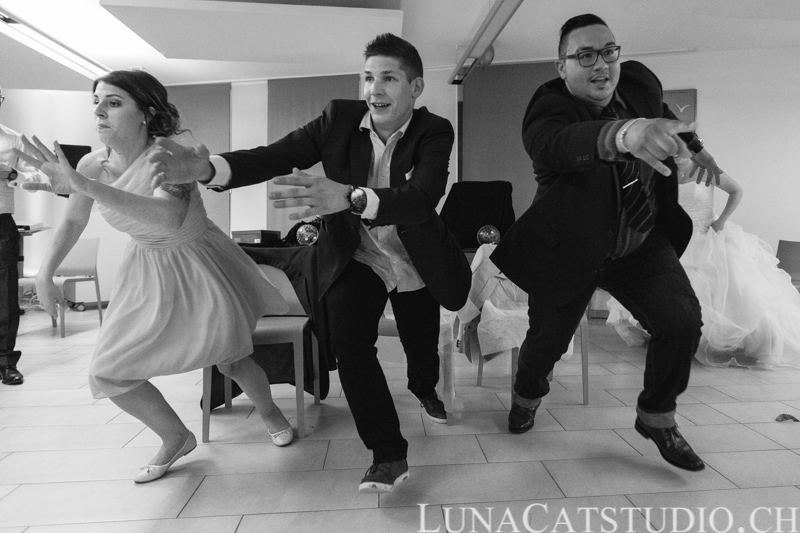 Mégane and Maël's engagement session at the Chillon Castle allowed me to make them a custom guestbook with their photos so that guests could write directly on it. Such a lovely object that the couple will be able to cherish for the years to come! I am so honoured to have been part of that.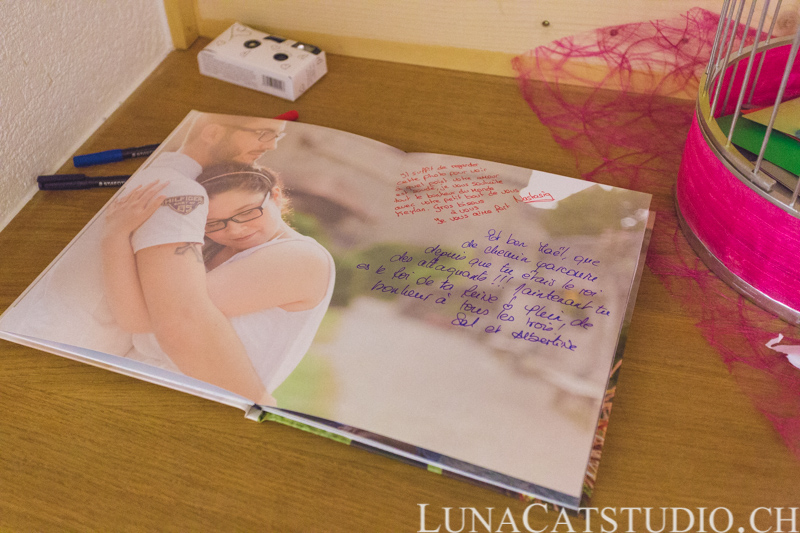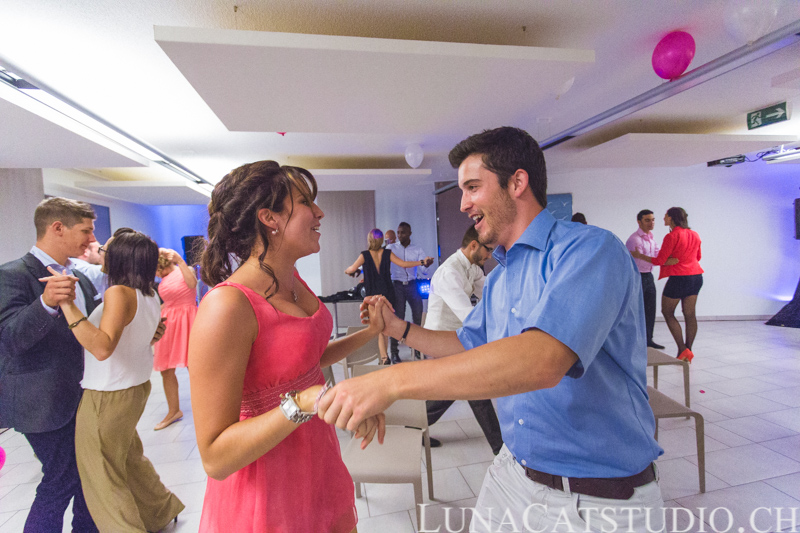 It was time to cut the wedding cake. The cakes were beautifully decorated following the wedding white and purple colour scheme with orchids.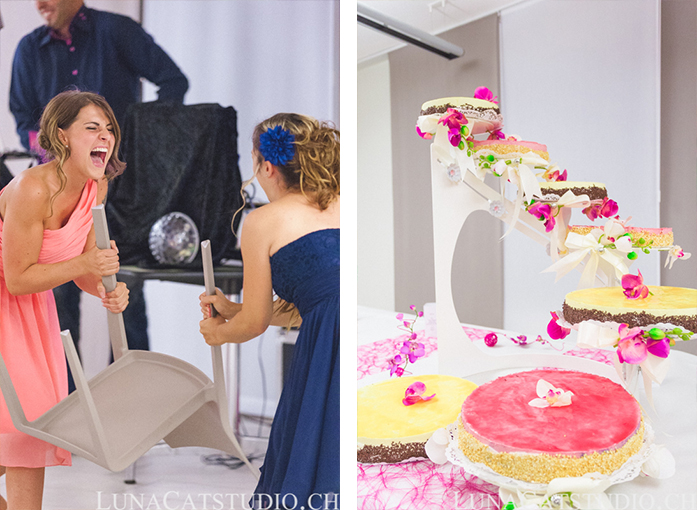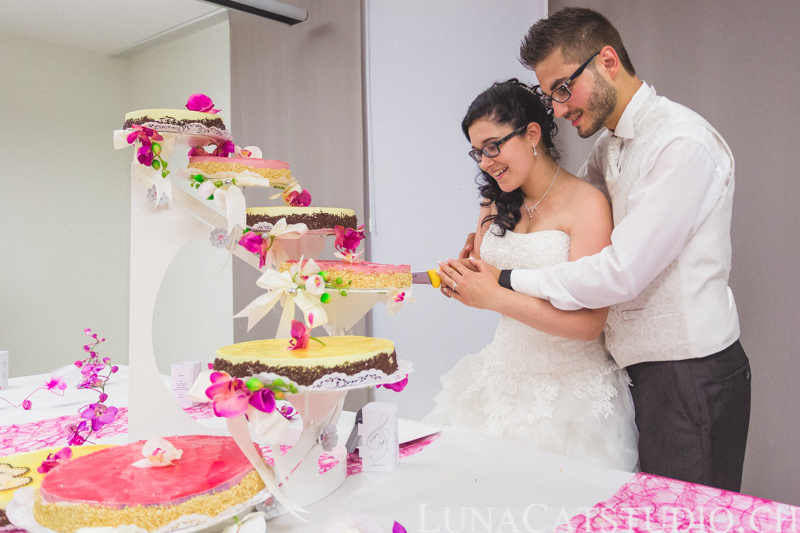 The reception continued with eveyone having fun and dancing on the dancefloor! I have to thank once again Mégane and Maël for their beautiful wedding and for welcoming me so naturally in their family with such great energy and joy! It was such a real pleasure and honour to be following them for their wedding day I will keep everlasting memories of this wedding!
Follow LunaCat Studio on Facebook – Google+ – Twitter – Pinterest for future news about our wedding photography.
Wedding ceremony: Martigny-Croix
Apéro: La Fromathèque, Martigny-Croix
Wedding reception : Salles du Coude du Rhône, Martigny
DJ : DJ Ludo
Wedding Photographer : LunaCat Studio, Lausanne